Monday 17 September
Synoptic Outlook:
NW winds will get going today as the high over SE Australia sets sail into the Tasman Sea. A cold front brushes over the Aussie Alps on Wednesday, with cold westerly winds and a nice wee dusting of snow gracing our slopes. W-SW winds continue to blow on Thursday as a high inches closer from the west.
Image Of The Day: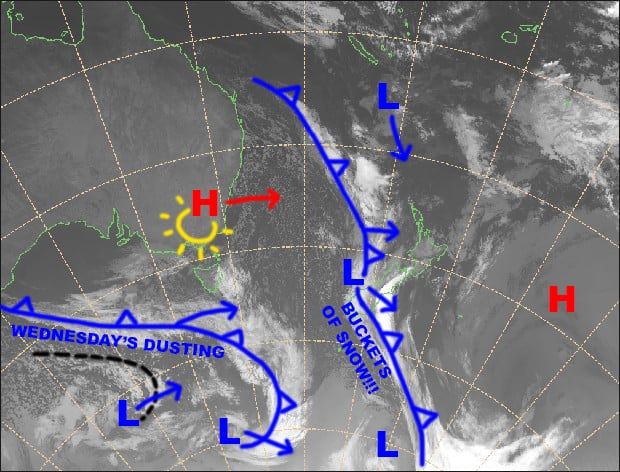 A mint week ahead with plenty of sunshine and a bonus dusting of snow on Wednesday. Source:: Metservice (vandilised by the Grasshopper)
Monday 17 September:
A chilly start to a stunning sunny day. NW winds picking up.
Tuesday 18 September:
Mainly fine, but cloud will spread east from afternoon, followed by rain or drizzle in the evening. It'll turn to snow flurries overnight as strong to gale NW winds turn to the west.
Wednesday 19 September:
Snow showers and strong westerly winds gradually easing. Accumulations for the day should be around the 5cm mark.
Thursday 20 September:
A sunny day with a bit of afternoon cloud. W-SW breezes.
Extended Outlook:
High pressure builds on Friday, then gets shoved to the north as a cold front glances the Aussie Alps on Saturday with a light peppering of powder. Snow flurries will continue on Sunday as winds swing around to a cold southerly. A ridge will glide over us on Monday, allowing N-NW winds to develop on Tuesday.
That's all from the Grasshopper. Wanna keep your finger on the pulse of all things snow? Join my weekly email list by filling in the box below. If you have a question or feedback for me, hit me up on facebook.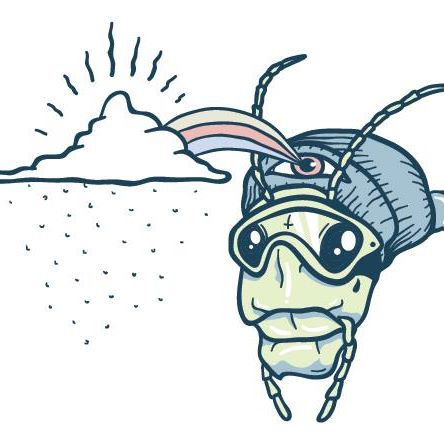 Follow The Grasshopper
Your Weekly Forecast Email