Snow on the Way in the South – Snow Alert NZ
June 16th, 2015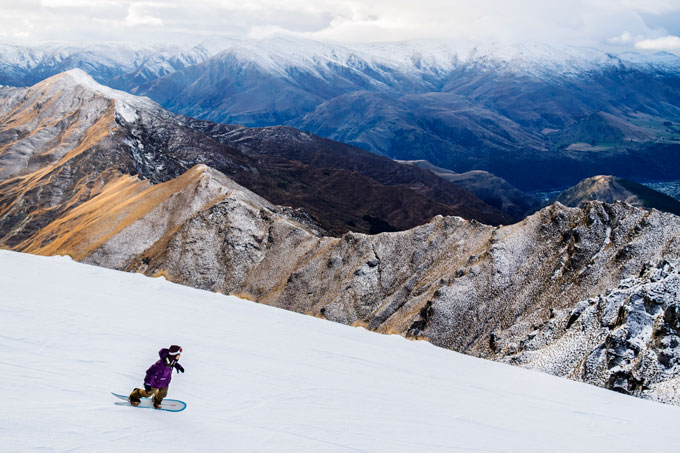 Coronet Peak turned it on for Opening Day last weekend, but if this storm comes through that powder shape could be mighty handy Image:: Coronet Peak
SNOW ALERT
 Uncertain and complex, but it's coming.
Updated: June 16 2015
After a promising start, followed by a great snowmaking window, the South Island resorts are preparing for yet another snow storm. In today's forecast, The Grasshopper said: "That snowmaking might become a bit harder as temperatures rise tomorrow, but there's a potential little miracle on the cards for Thursday."
"Tomorrow the ridge in the Tasman will slip to the north-east, allowing north-westerly winds to build during the afternoon, possibly throwing some flurries across to the Southern Lakes.
"For several days we have been expecting those north-westerlies to pick up further on Thursday, and since they were coming from a warm air stream the message was that this meant rain. However, the low in the Tasman driving those north-westerlies is going to split in two, with one half staying west of the divide and continuing the north-westerly flow, which will mean rain during the morning.
It's this level of uncertainty around what impact the warm air is going to have that really leaves things up in the air at this point in time. But it seems that things aren't all doom and gloom, he continues: "The other half of that low will move quickly towards the south-east, which will send a burst of southerlies across the lower South Island tomorrow afternoon. This cold air looks like it could undercut the north-westerlies and cause most of the afternoon's precipitation to hit the ground as snow. This little miracle is looking most likely about areas further south, so the Southern Lakes fields are all well placed and could see anywhere from 10 to 70cm. You can probably throw most of the Mackenzie country into this mix as well. But the cold change looks like it will peter out around Mt Hutt, where snow totals will less, and might turn back to rain early Friday. Further north of there, we might not see much snow at all, and a fair amount of rain."
So, keep in mind that this weather system is a complex beast, and could wither into a flailing heap in about as much time as it takes the All Blacks to give the Wallabies their next thumping. But, for now we wait. All's fair in love and weather, right?
——————————-