Friday 21 September
Synoptic Outlook:
It's another stunning spring day today as a high builds over us. Westerlies will pick up on Saturday as the high moves out to the east, then asuper weak cold front will bring a southerly change and a snowflake or two on Sunday. High pressure will build again on Monday with more sunshine on the cards.
Image Of The Day: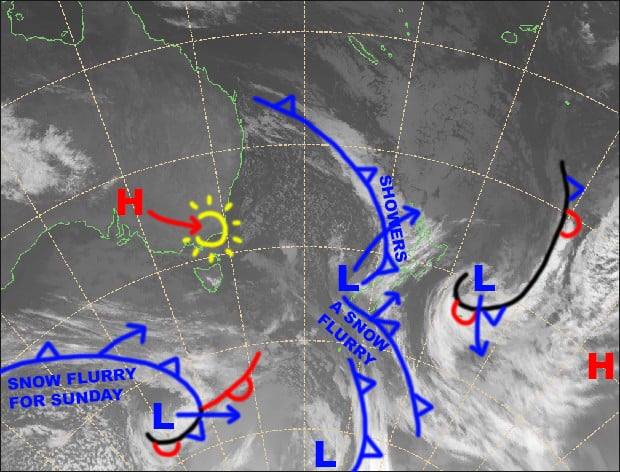 It'll be mostly sunny this week, but we may see a couple of snowflakes on Sunday. Source:: Metservice (vandilised by the Grasshopper)
Friday 21 September:
A cracking sunny day with westerly breezes.
Saturday 22 September:
Mostly sunny with westerly winds.
Sunday 23 September:
A sunny morning, then cloud will build in the afternoon with a snowflake or two falling on Victorian resorts as winds change southerly.
Monday 24 September:
A snow flurry on NSW resorts before dawn, then it'll clear to a mint day. The southerly breeze will die away.
Extended Outlook:
The high will wander into the Tasman Sea on Wednesday allowing warm northerlies to pick up. Another super weak front will brush over us on Thursday with only a spot of drizzle, before colder SW winds develop next Friday with snow flurries on upper slopes. We may see a slightly more vigorous front hit next Saturday with an even colder airmass sweeping over us accompanied by snow showers!
That's all from the Grasshopper. Wanna keep your finger on the pulse of all things snow? Join my weekly email list by filling in the box below. If you have a question or feedback for me, hit me up on facebook.
View More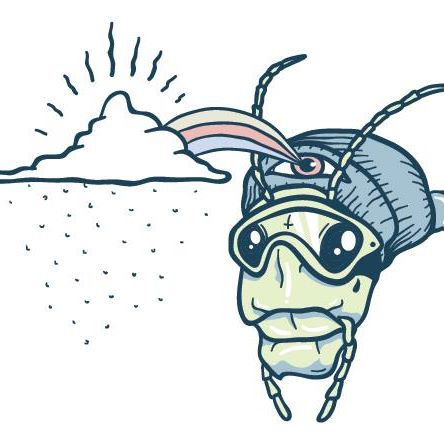 Follow The Grasshopper
Your Weekly Forecast Email