Wednesday 15 August
Synoptic Outlook:
We're currently amongst a crazy cycle of cold front after cold front, thanks to the Southern Annular Mode, which is still in a negative phase. This means all that freezing cold air and snow bearing systems extend further north, putting the Aussie Alps in it's path. I'm looking forward to seeing the next reading at Spencer's Creek; the last was taken about a week ago, measuring 180.5cm and we've had a lot more snow since then.
The first cold front of many makes it's way over our slopes today, bringing about 15-20cm of fresh powder, but we'll have to put up with these horrendously W-NW strong winds. The coldest air will arrive tonight, and freezing westerly winds gradually ease during Thursday, then turn to the NW and pick up on Friday. The next cold front hits during Saturday. This is a really juicy system and is backed up by a good trough, so snow will fall all the way through Sunday, as does the freezing S-SW winds. We can expect 20-30cm or more snow to fall this weekend, WOW!
Image Of The Day: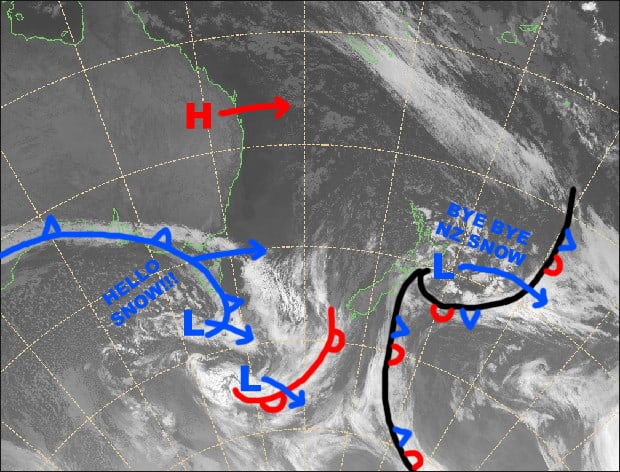 It'll turn into a blizzard today as the cold front hits, which will give us another healthy top-up and keep the stoke levels running high. Source:: Metservice (vandilised by the Grasshopper)
Wednesday 15 August:
Snow showers spreading east, reaching the Snowy Mountains early afternoon, with gale westerlies. Snow accumulations will be around the 15-20cm mark.
Thursday 16 August:
Partly cloudy with the odd snow flurry. Strong and freezing westerly winds, gradually easing.
Friday 17 August:
Partly cloudy with the odd snow flurry, while winds turn to the NW and strengthen.
Saturday 18 August:
A morning dumping of snow as the front passes through and NW winds change to a freezing cold westerly. Then snow showers for the rest of the day.
Extended Outlook:
After the weekend's onslaught, the next snow bearing system hits late Monday or early Tuesday with moderate looking snowfalls. We might get another light to moderate dusting next Wednesday and possibly Thursday, before a ridge or high moves onto SE Australia later next week.
That's all from the Grasshopper. Wanna keep your finger on the pulse of all things snow? Join my weekly email list by filling in the box below. If you have a question or feedback for me, hit me up on facebook.
View More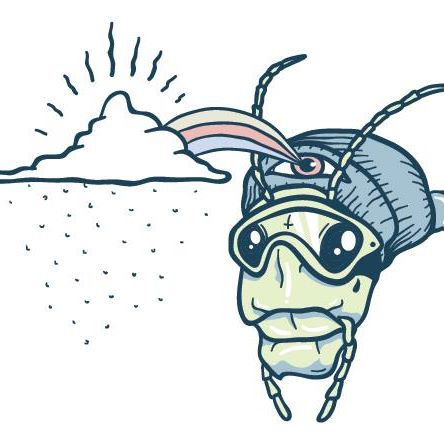 Follow The Grasshopper
Your Weekly Forecast Email