Snow Season Outlook 2016 – New Zealand – May Update – Waiting, Waiting
May 3rd, 2016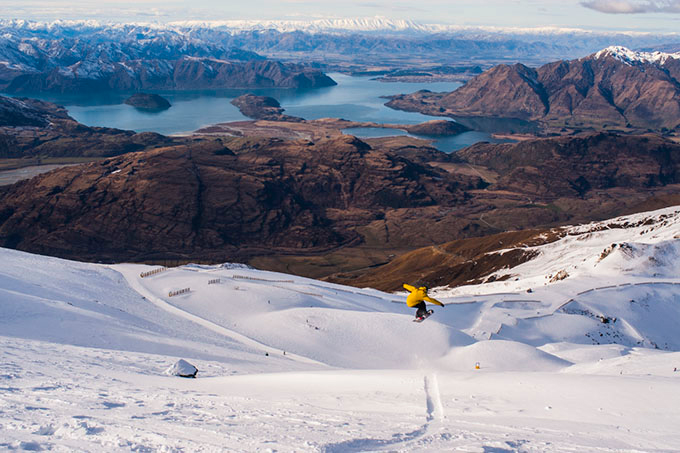 Will Jackways pops through another powder day at Treble Cone, August 2015 Image:: Johnny McCormack
New Zealand Seasonal Snow Outlook | The Grasshopper
It is that time of year again. The nights are drawing in, the leaves are turning golden, morning mist is forming; all signs point to the imminent arrival of Old Man Winter. This forecast is going to be short and sweet. There is no point in sugar coating it – at this point, the outlook is bleak.
The Re-cap
My previous forecast set the stage: El Nino of 2015/2016 was set to gradually diminish over the coming months. This has been the case, warm sea surface temperatures (SSTs) in the Eastern Pacific are dissipating as El Nino gasps its last few breaths before whispering, "I'll be back". El Nino Southern Oscillation (ENSO) climate forecast models and observations of cool sub-surface (>50m depth) sea temperatures in the Eastern Pacific now indicate that there is a fair chance that ENSO will switch into a La Nina phase by Spring 2016. BOM have issued a La Nina Watch to this effect. However, in the short term the roulette ball has fallen onto the green zero, winter this year will be neutral.
Neutral is not great news for New Zealand, as it increases the probability of dry easterlies and high pressure to the south of the country. As we established last month, the effects of El Nino and La Nina on New Zealand are more muted than in Australia. If New Zealand's climate was a juicy hamburger, then El Nino would be an extra slice of cheese and some hot sauce.
Warm Water Rotter
The other thing that could potentially hinder a great snow season this year is the higher than average SSTs recorded in the Tasman that didn't go away in April. The models indicate that they'll be around for a couple of months to come. The higher than normal SSTs give more juice and moisture to incoming systems, but they also make rain more likely than snow as those fronts slam into The Alpine Divide.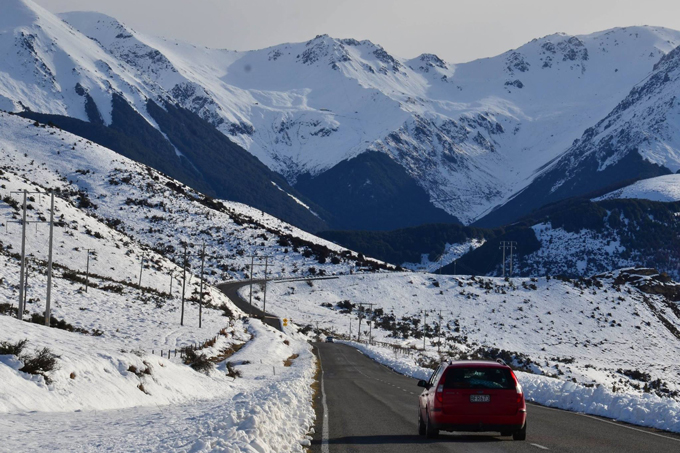 One of the best things about New Zealand winters is the classic clubbie road trip. We're counting down the days Image:: Supplied
The Ray of Hope
SAM (Southern Annular Mode) is an index that weather geeks use to measure the location of the westerly wind belt which rampages around Antarctica. A positive index means that juicy lows hug close to Antarctica's shores whilst a negative index means that those lows get less clingy, move north, and slam onto our shores with greater frequency. April has seen the SAM index move into negative territory. This index is difficult to forecast; models are divided as to if it will stay negative or turn positive again. Looking at the long term averages my gut instinct is that it will turn positive again but we can keep our antennae crossed.
When will we get a base in place?
The models indicate that the first week of May will be dominated by a low spinning out to the west with a high to the east. That means that drab north-westerlies will keep it wet and mild on the South Island with drier and warmer weather in the North Island. Most of the precipitation will fall as rain on The Divide. I expect things to cool down during the second half of May, with some short-lived snow on high terrain as winds swing around to the west.
Mt. Ruapehu should start building on top after mid-month with a slow start on the mid and lower slopes. Don't freak out if you see a few rocks and bare slopes on the mid and lower section – this is normal. Ruapehu is like an investment banker, risk adverse and in it for the long haul. It is my gut instinct that Canterbury and the Southern Lakes will also have a slow start to the season with rain on all but the highest terrain for the first half of the month. Expect to see the peaks turn intermittently white by the end of the month.
It's still too early to give details on specific storms and individual snowfall events, but the long and short of it is that I'm sticking to my call from last month. I am going to predict a slightly worse than average season in New Zealand in 2016. I expect things to be mild during May. Remember, as always, if you don't mind the crowds and want a better chance of snow, then book your holiday for August. I look forward to updating you on the conditions we can expect for opening week in the near future. Until then, Kia Ora folks!
That's all from the Grasshopper. We'll update this outlook at end of May as the excitement builds. If you've got a different theory on what's going to happen this winter, or just want to provide feedback, then please hit me up on the discussion below. Or you can follow me on facebook.
The Remarkables forecasts,
snow reports and
live snow cams.
Treble Cone forecasts,
snow reports and
live snow cams.
Cardrona forecasts,
snow reports and
live snow cams.
Turoa forecasts,
snow reports and
live snow cams.
Coronet Peak forecasts,
snow reports and
live snow cams.
Whakapapa forecasts,
snow reports and
live snow cams.
Mount Hutt forecasts,
snow reports and
live snow cams.