Wednesday 22 August
Synoptic Outlook:
The low lying off the SE tip of the South Island weakens away today, while a second low approaches the North Island from the Tasman Sea. The second low crosses the North Island during Thursday, dropping trailer loads of fresh powder onto Ruapehu. As the low pulls away to the east, we're left with a cold S-SW flow, which continues through Saturday.
Image Of The Day: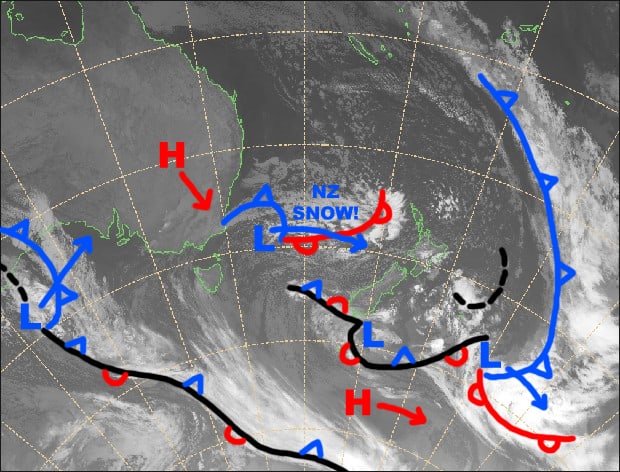 Despite the ugly synoptic situation, it'll be a mint day on the South Island. There'll be plenty of snow for Ruapehu, thanks to unsettled northwesterlies today and a low tomorrow. Source:: Metservice (vandilised by the Grasshopper)
Wednesday 22 August:
A mint day on the South Island with westerly winds. Snow showers on Ruapehu, while gale westerlies ease and turn to the NW.
Thursday 23 August:
A fine day for the Southern Lakes, but there'll be snow showers in the evening as as a southerly breeze develops. A fine start in Canterbury, then it'll cloud up with snow flurries and southerly winds kicking in from afternoon. Heavy snowfalls on Ruapehu ease to snow showers during the morning, while gale NW winds turn SW and ease.
Friday 24 August:
Snow flurries across the country will gradually clear as southerly winds turn to the SW, then cloud will break up.
Saturday 25 August:
A few morning snow flurries for the Southern Lakes and Ruapehu, then it'll be mint. It'll be a beaut day in Canterbury. SW winds over the country.
Extended Outlook:
A high slowly builds over the country during Sunday and Monday, settling things down and giving the sun a chance to shine. A front glances the lower South Island on Tuesday before the high trundles away into the Pacific, allowing northerly winds to pick up ahead of the next frontal system, which may affect the country Wednesday through Friday next week.
That's all from the Grasshopper. Wanna keep your finger on the pulse of all things snow? Join my weekly email list by filling in the box below. If you have a question or feedback for me, hit me up on facebook.
View More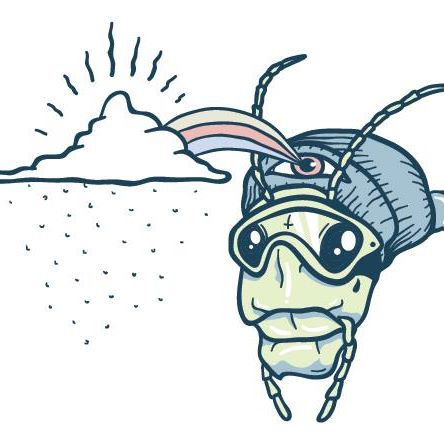 Follow The Grasshopper
Your Weekly Forecast Email