Wednesday 19 September
Synoptic Outlook:
Spring has really turned it on for the Southern Lakes after 60cm fell there during Monday. There's plenty more to come during the extended outlook too. To top it off, it'll be a mint day today thanks to the ridge lying over the South Island. A low just north of NZ is pushing easterlies over the North Island. The ridge and low will weaken away on Thursday, before a southerly works it's way up the country on Friday with a nice dusting of powder for South Island's ski fields. A ridge will wander up the South Island during Saturday, spreading sunshine and spring joy, while SE winds continue to blow over the North Island.
Image Of The Day: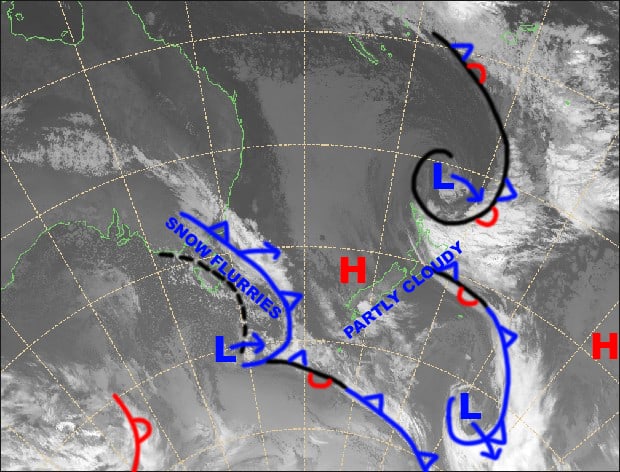 It'll be an epic day for the South Island thanks to the ridge lying over the place, plus there's 60cm of new snow to get amongst on the Southern Lakes fields. Source:: Metservice (vandilised by the Grasshopper)
Wednesday 19 September:
Sweet as for the South Island, with a bit of high cloud and strengthening NW winds. Partly cloudy with a NE breeze on Ruapehu, and there may be an afternoon shower or two.
Thursday 20 September:
Partly cloudy with an afternoon snow flurry or two for the Southern Lakes and just a bit of high cloud for Canterbury. Strong NW winds for the South Island. Partly cloudy on Ruapehu with a shower or two and light winds.
Friday 21 September:
Morning snow showers for the Southern Lakes, spreading to Canterbury in the afternoon as southerlies develop. Rain showers developing on Ruapehu during the morning with westerly breezes.
Saturday 22 September:
A sunny spring day for the South Island with light winds. Partly cloudy with SE winds on Ruapehu, and there may be a few afternoon showers.
Extended Outlook:
A juicy cold front will dump powder onto the Southern Lakes during the second half of Sunday, then do the same for Canterbury and Ruapehu as it continues north during Monday. Snow will continue to fall on the Southern Lakes and Ruapehu during Tuesday and next Wednesday as freezing SW winds blow. A ridge builds over the North Island next Thursday and Friday, settling things down so we can get amongst all this fresh powder.
That's all from the Grasshopper. Wanna keep your finger on the pulse of all things snow? Join my weekly email list by filling in the box below. If you have a question or feedback for me, hit me up on facebook.
View More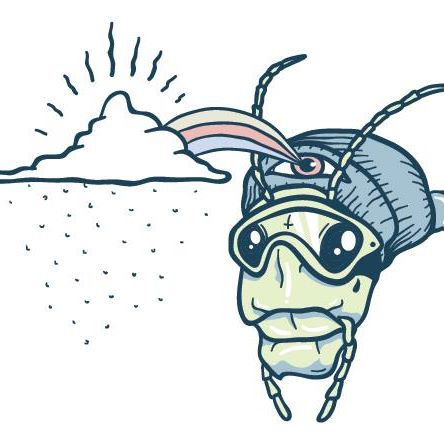 Follow The Grasshopper
Your Weekly Forecast Email