2022-2023 North American Snow Season Outlook – February Update
February 19th, 2023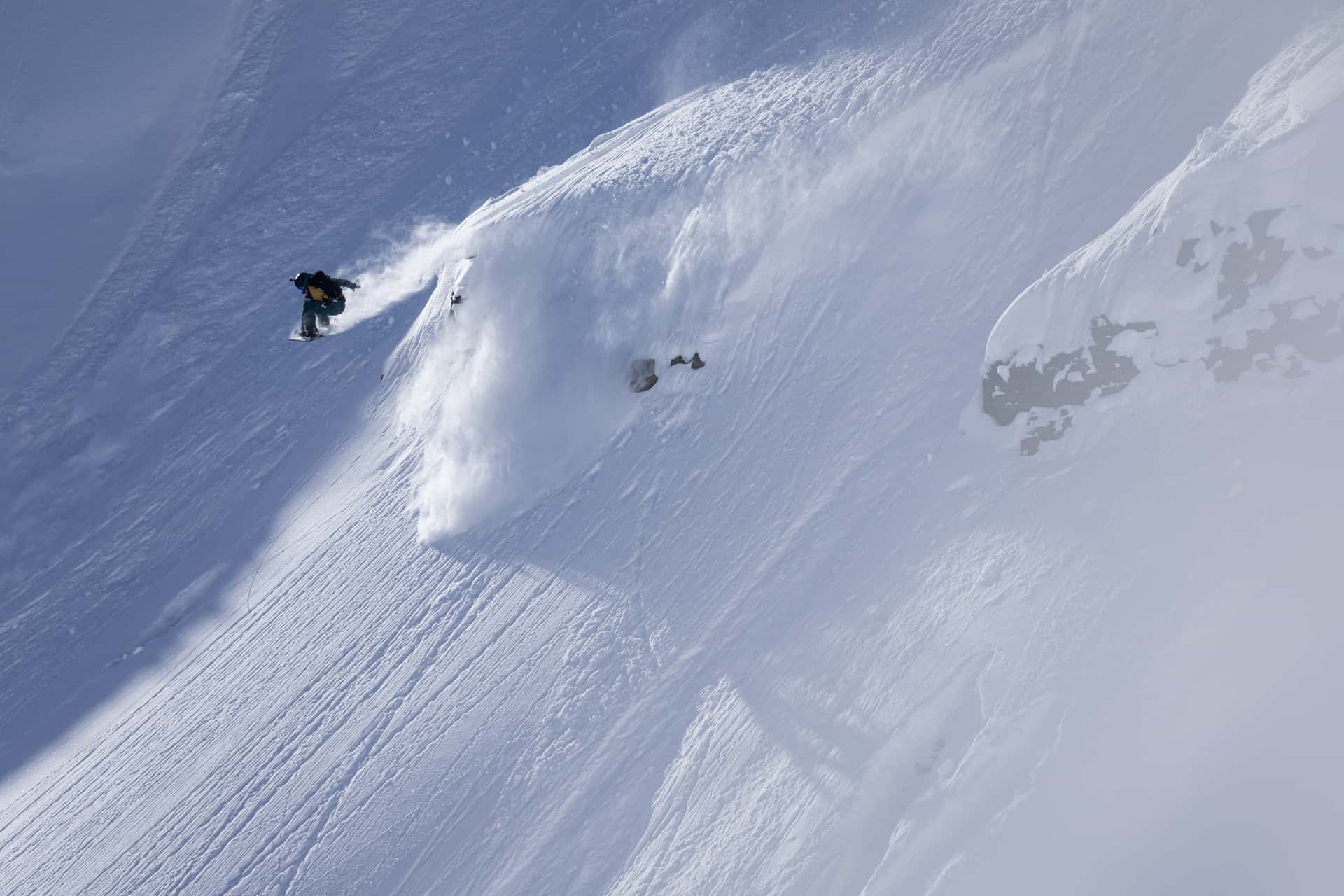 Mountainwatch | The Grasshopper
We're now just past the mid-point in the North American Snow Season, and since mid-January, snowfalls across the west have slowed significantly after going at it like a bull at a gate. High pressure has dominated and resorts have enjoyed bouts of fine, settled weather, along with a few top-ups and one or two bigger dumps, which have kept the slopes humming.
The slowdown has meant the growth of snowpacks have fallen below historical rates, taking some of the gloss off the SNOTEL chart, with the exception of areas in Arizona, New Mexico, and southern Utah and Colorado who have seen increases since we last checked it.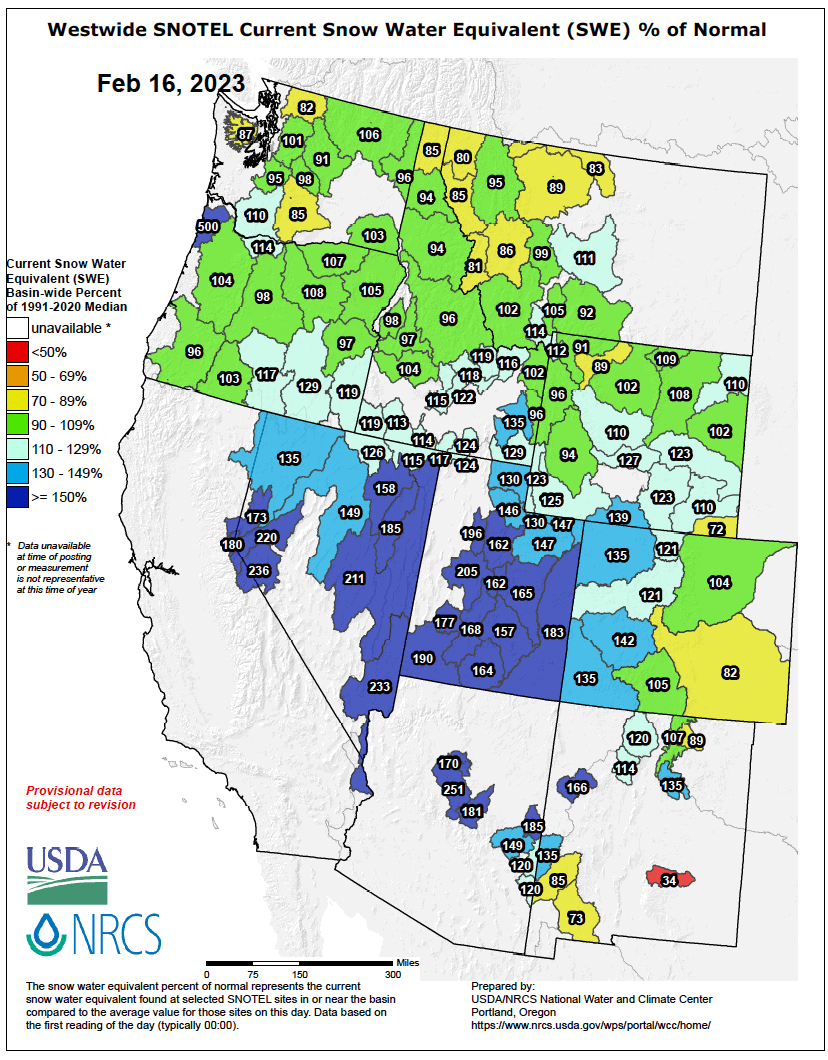 That gloss should well and truly be restored this week as an active weather pattern is set to return to the west this week, causing snowfalls in the north to flare up and march southwards ahead of a freezing Arctic airmass. The pattern is expected to remain active at least through the first several days of March, especially over the north and along the west coast. For more details on this short-range forecast, be sure to check my weekly North American forecast.
Forecast for March, April & May
The ski season in North America usually runs well into April, but closing dates can change drastically depending on the latitude, altitude and snow conditions of individual resorts. Some of the bigger resorts can even run into early July during a good season!
So, there is plenty of shredding left to be done over here, and during some seasons, a tonne of snow can fall during the spring months. Snowfall in February can particularly be fickle, especially over the northern tier where cold, dry airmasses tend to push the storm track further south. But during March and April, that storm track retreats northwards, and for a lot of areas, these are the snowiest months of the year, especially along the eastern side of the Rockies. Snowfalls during May significantly drop away as the snowpack rapidly melts.

In trying to ascertain what the spring months may throw at us, we continue to see a fading La Nina pattern in models and the outlooks from the U.S. and Canadian meteorological agencies. Cool temperatures across central and eastern tropical Pacific have continued to weaken over the past month, and are now below the BOM's La Nina threshold, but are sitting smack bang on top of NOAA's threshold (yes, they have different thresholds!).
However, the atmosphere is yet to climb down off its La Nina perch, with trade winds and precipitation still very much elevated in the western Pacific. It's difficult to know how long it'll take for the atmosphere to finally wind down, but one thing that could put an abrupt end to it over the next few weeks is the Madden-Julian Oscillation, known as the MJO.
The MJO tracks a pulse in tropical weather that circumnavigates eastwards around the globe about every 30 to 60 days. It's a major source of variation in weather throughout the tropics on the sub seasonal level, and can vary in strength. Right now, that pulse is strong and is situated over the western Pacific, where it likely had a hand in developing cyclone Gabrielle, which laid waste to the North Island of New Zealand earlier this week.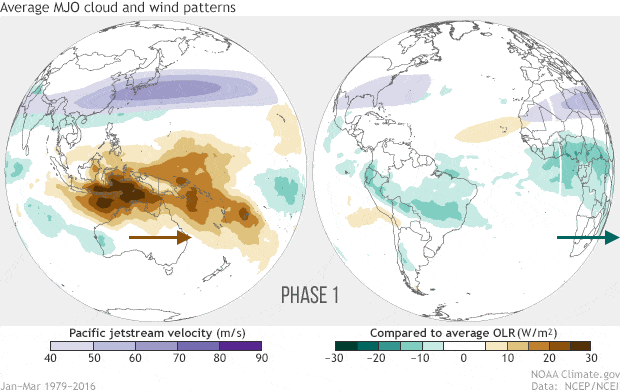 The MJO has likely been reinforcing La Nina of late, but as it continues to track eastwards into the central and eastern Pacific over the next few weeks, it will likely counteract it and possibly see this triple-dip La Nina put to bed once and for all.
La Nina seasons tend to favour snowfall over northern and central mountains, but during weak ones, the effect is slightly weaker and northern Canada doesn't fare so well. For March, models expect snowfall will continue to follow this pattern.

But as influence from the Pacific wanes, precipitation and pressure patterns follow suit – super weak in April and gone in May – while warmer than average temperatures expand from the south, suggesting the thaw this year will be extra vigorous.
With this in mind, snowfall during April is most likely to be average-or-below across the central-southern states, and average in the north where there is also slightly less but equal chances of above and below falls. What little snowfall we have left in May is most likely to be the same or less than usual.

That's it from me folks, this is the last North American outlook of the season. I hope you've enjoyed them as much as I have writing them. I'll continue to keep you informed on all the highlights and snowlights in this amazing part of the world in my weekly forecasts, issued every Thursday, until the end of February. Ride on!
Grasshopper