Backcountry Film Festival Begins in Sydney on April 21
April 17th, 2018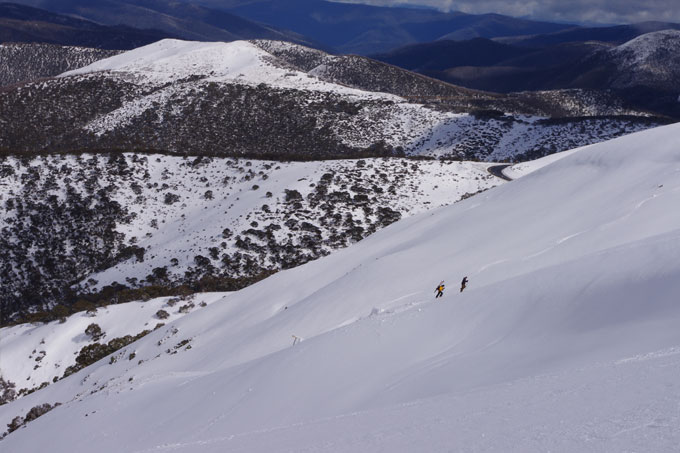 From a small gathering of 60 people in Melbourne six years ago, the BCFF has grown into a significant event for the backcountry community, with more than 500 people attending shows. In 2018 there will be screenings in Sydney (April 21), Melbourne (May 9), Bright, in north east VIC (June) and Canberra (July).
The festival features a program put together by the US-based Winter Wildlands Alliance. The 2018 line-up, eight films in total, includes some great films from Alaska, Idaho and Iraq, plus a feature on ski athlete Caroline Gleich.
The first screening is in Sydney this weekend in the upper hall at the McMahons Point Community Centre, 165, Blues Point Rd, McMahons Point at 7pm. The Sydney screening is again hosted by the NSW Nordic Ski club and light refreshments are included. It will also highlight some Australian short films set in the Kosciuszko backcountry and the Victorian Alps.
Tickets are $16 for under 18 and $24 for adults and you can: book tickets here.
If you are interested in organising a local show, contact Cam Walker:
cam.walker@foe.org.au
BACKCOUNTRY FILM FESTIVAL 2018 LINE-UP
The Space Within
Exploring the tide pools of a deserted tropical beach, a young boy finds a mysterious treasure washed upon the rocks. The space within whispers of another world, holding magic unlike anything he has seen before.
DPS Skis Cinematic | 5 min 28 sec
https://winterwildlands.org/the-space-within/
Ruth Gorge

In this short expedition skiing piece, Noah Howell and Ben Peters head into Alaska's Ruth Gorge to see what they can find. With great weather, good preparedness and a ton of lucky they tick off two incredible steep skiing lines in one of the most beautiful settings on the planet. Shot in light and fast gorilla style, these two ski mountaineers provide a well-documented epic adventure sharing what they love to do most.
Noah Howell | 8 min 1 sec
https://winterwildlands.org/ruth-gorge/
Below Zero
Below 0 ° is an animated short film that uses fictional documentary as its main narrative resource. The main theme concerns the life of Vladimir Kozlov, a 50-year-old Russian-born meteorologist, who by the time of the alleged audio recording would have had about 20 years of living in the Arctic. The events narrated in this audio-visual were based on the decade of the fifties of the twentieth century.
The events are narrated metaphorically from a voice recording of Kozlov himself, who is accustomed to document his experiences and thoughts experienced in this inhospitable place, in such a way that the voice that is heard is that of the character himself.
Itai Hagage | 4 min 54 sec
https://winterwildlands.org/below-0/
The End of Snow
Dr. Jane Zelikova is a tropical ecologist living in the mountains of Wyoming and Colorado. She dreams of snow in the summer and tropical forests in the dead of winter. But her snow-capped Fourteeners are changing – no longer bringing the deep winter snowpack once promised. This is a future from which she and the people of the West can't run. What's a wildly curious, adventurous girl to do? Embark on a journey into the mountains to find the tales of the past, present and future of snow. There will be adventure. Friendships will form. She will dig holes and fall down those holes. But like any good story, the characters she meets will help show her the way, a map for living in a world beyond the end of snow.
Jane Zelikova and Morgan Heim | 20 min 35 sec
https://winterwildlands.org/the-end-of-snow/
Follow Through
People have opinions about skier Caroline Gleich: Inspirational. Gumby. Social media star. Role model. Model masquerading as a mountaineer. At sixteen, she stumbled upon a copy of the cult classic guidebook The Chuting Gallery. Irreverent and wonderfully arbitrary, the guidebook lays out a set of 90 ski mountaineering lines across Utah's Wasatch Mountains. They were difficult and dangerous. When she first said out loud she wanted to ski them, she was met with laughter. "Maybe it was because I was five feet tall, or I was a little blonde girl, but I remember that clearly — and it didn't feel good" says Gleich. After a decade building her skills, Gleich set out to complete her vision and become the skier she dreamt of being. 'Follow Through' is a story of loss, belonging and desire for respect. In this age of hyper connectivity, which voices do we choose to hear, and which do we ignore?
Anya Miller and Becca Cahall | 21 min 48 sec
https://winterwildlands.org/follow-through/
Genesis
A trio of powder professors ascend Alaska's Chugach, rising above the desolate and rain-soaked primordial soup of lower elevations, and evolving upwards into the purple-hued peaks that tower above the clouds — a world of brilliant colour and life. The mountains become the laboratory in which they embark upon extensive study and experimentation, in order to form theories on some of mankind's oldest questions: how did life begin, and what makes this life worth living?
DPS Skis Cinematic | 5 min 50 sechttps://winterwildlands.org/genesis/
https://winterwildlands.org/genesis/
Idaho's 12vers Project
Join Mark Ortiz on his self-filmed venture to ski all of Idaho's Twelve-Thousand-footer peaks last season. Project alternatively known as "It's just right over there".
Mark Ortiz | 12 min 10 sec
https://winterwildlands.org/idaho-12vers-project/
Adventure Not War
"I came home from war. War never really left me. Some of my friends came back in boxes. Others filled those boxes Stateside. Climbing and skiing kept me out of the grave. In order to come all the way home and to leave war behind, I'm going back to ski and climb with a few friends."
Follow Stacy Bare in this film with his ongoing project Adventure Not War: To promote world peace and understanding through adventure.
Max Lowe | 7 min 35 sec