Choosing The Right Ski – The Ski Selector Quiz and a Guide to Some the Best 2022 Skis
July 12th, 2022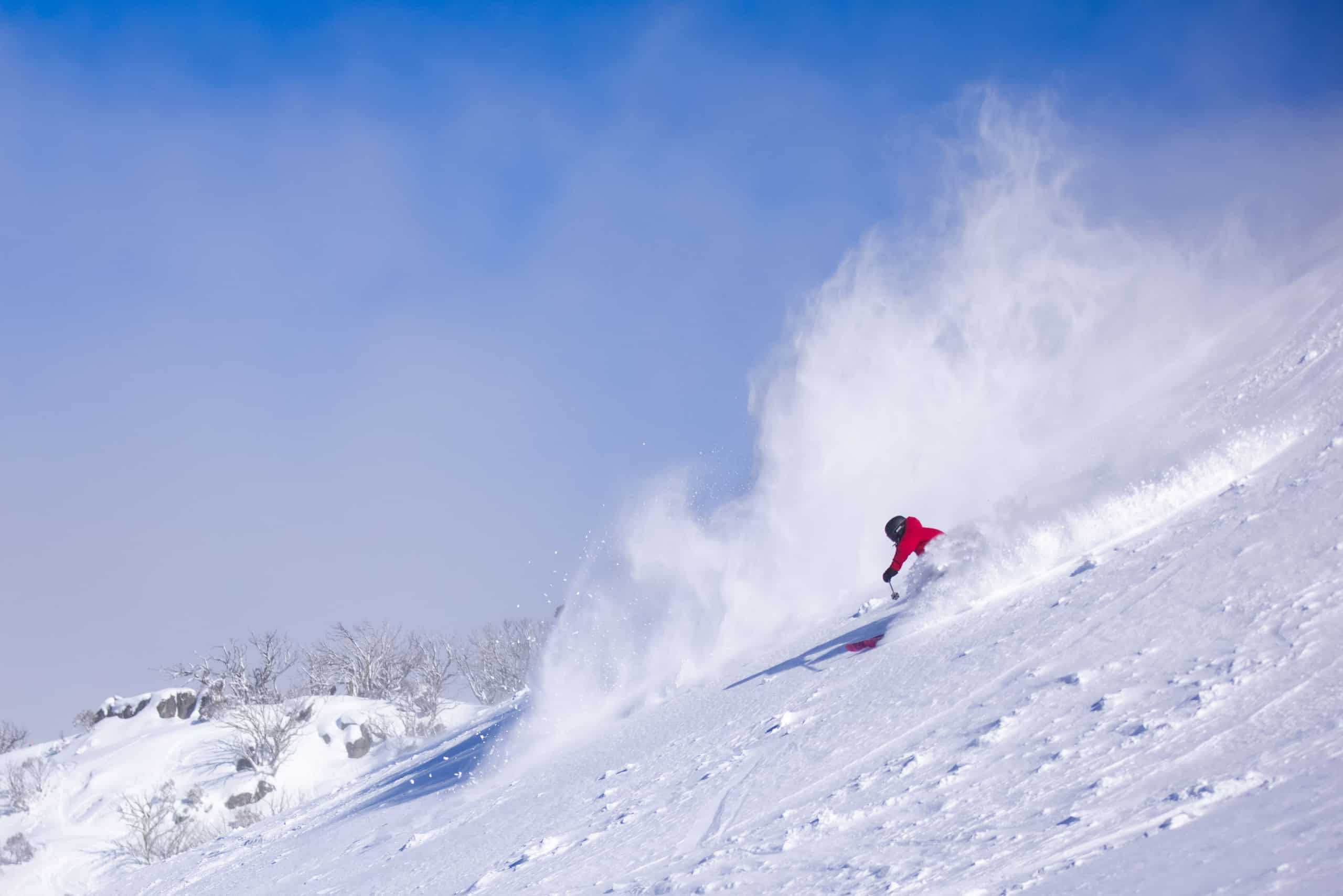 Mountainwatch | Watkin McLennan
The most exciting gear a skier ever buys is their skis. They are full of hopes and dreams. They represent who you are as a skier and they influence how, when and where you ski. Most other gear can be hacked. At the end of the day it doesn't matter what outerwear you wear or what kind of helmet.
But your skis need to be the right size, the right personality and the right category. That is why the ski you choose is so important. It is why there are so many different skis out there to choose from. It is also why buying a pair of skis can be a difficult, albeit fun, exercise.
People often talk about the "One-Ski- Quiver" – one ski that you ski all season no matter the conditions. Having only one ski to draw on makes traveling easy, it also helps you to understand how your ski works and how to work your ski. But deciding which ONE ski is right for you makes the whole process even more difficult. What follows is a ski selector quiz. It is designed to help you find that ONE ski that is right for you – Your "One-Ski-Quiver".
Most skis are fantastic, so long as they are the right category, width and length for you. Answer the next three questions in our Ski Selector Quiz before going to your retailer who will help you make your final decision.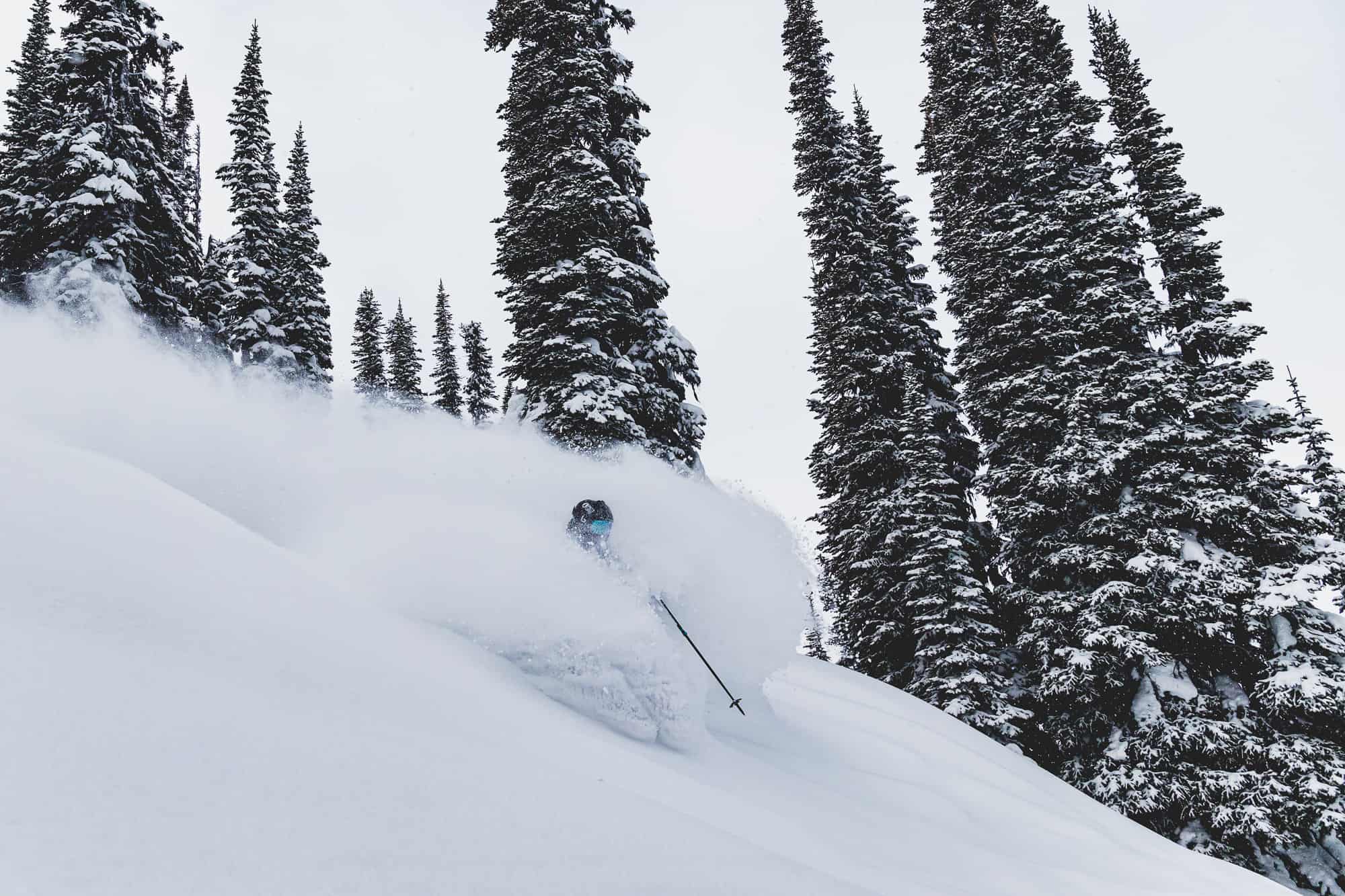 The Ski Selector Quiz
Question 1: Find your category
You are skiing and there is a feature in the slope in front of you. Do you
a) Turn around it.
– You are an ALL MOUNTAIN SKIER
b) Turn over it?
– You are a FREERIDER
c) Air off it?
– You are a FREESTYLER
*As a general rule: Harder snow – Go narrow; Softer snow – Go wider
Question 2: Find your waist width
How soft do you expect the snow to be that you will ski?
a) Hard groomers and ice – 60-70mm wide waist
b) Occasional slush or little powder – 70-95mm wide waist
c) Slush, crud, moderate powder – 85-105mm wide waist
d) Snorkel deep – 100mm+ wide waist
e) categories a to c – 70-100mm wide waist
f) categories b to d– 90mm+ wide waist
*As a general rule: Harder snow – Go narrow; Softer snow – Go wider
Question 3:  Find your ski length and refine its width
How fast do you ski?
a) Slowest – I love looping turns and I don't want to fall.
– Find a ski around chin-height with a waist width on the narrower side from the previous question.
b) Slow – When the snow is soft, and I can see I might let them run a bit.
– Find a ski around mouth-height with a waist width on the narrow to middle side from the previous question.
c) Fast – I love charging, but the guys in the movies are crazy.
– Find a ski around eye to head height with a waist width on the middle to wider side from the previous question.
d) Fastest – I am one of the guys in the movies.
– You know what you want.
*General rule: Slow – Go shorter and narrower; Fast – Go longer and wider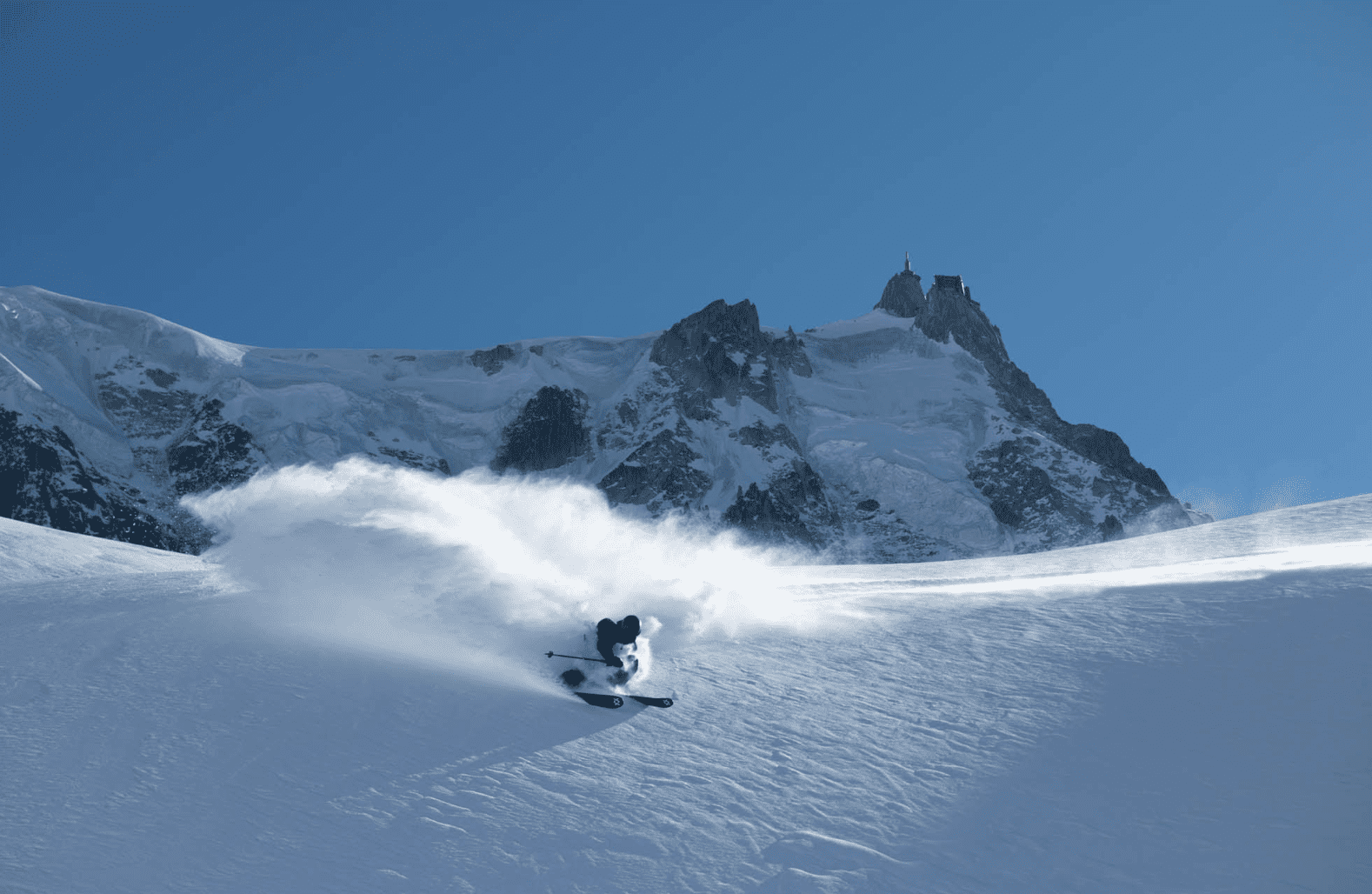 FREERIDE SKIS
The best thing about skiing is that no two turns are the same, let alone runs. You love to explore the mountain and you love to turn. Turn around trees, over wind lips, down chutes, over and around anything. When the snow is hard you are ski in the sun or down low because you know how the snow changes throughout the day. When the snow is deep you have already done a run before the lifts open, and a bit of tracked out powder never turned you off either.
If you need to slow down, you drop the hip and get the skis arcing and sliding. You like a ski that can nip tight turns in the same breath as a high-speed burner. It all comes from the tail of the ski, short, stiff and high performance.
What to look for: Ski brands will often refer to the right skis for you as "Freeride", "All-terrain" or "Big-mountain"
General traits: Directional, traditional mount, 90mm+ width, Medium to stiff flex; Longer turn radius; Regular camber, early rise or reverse camber.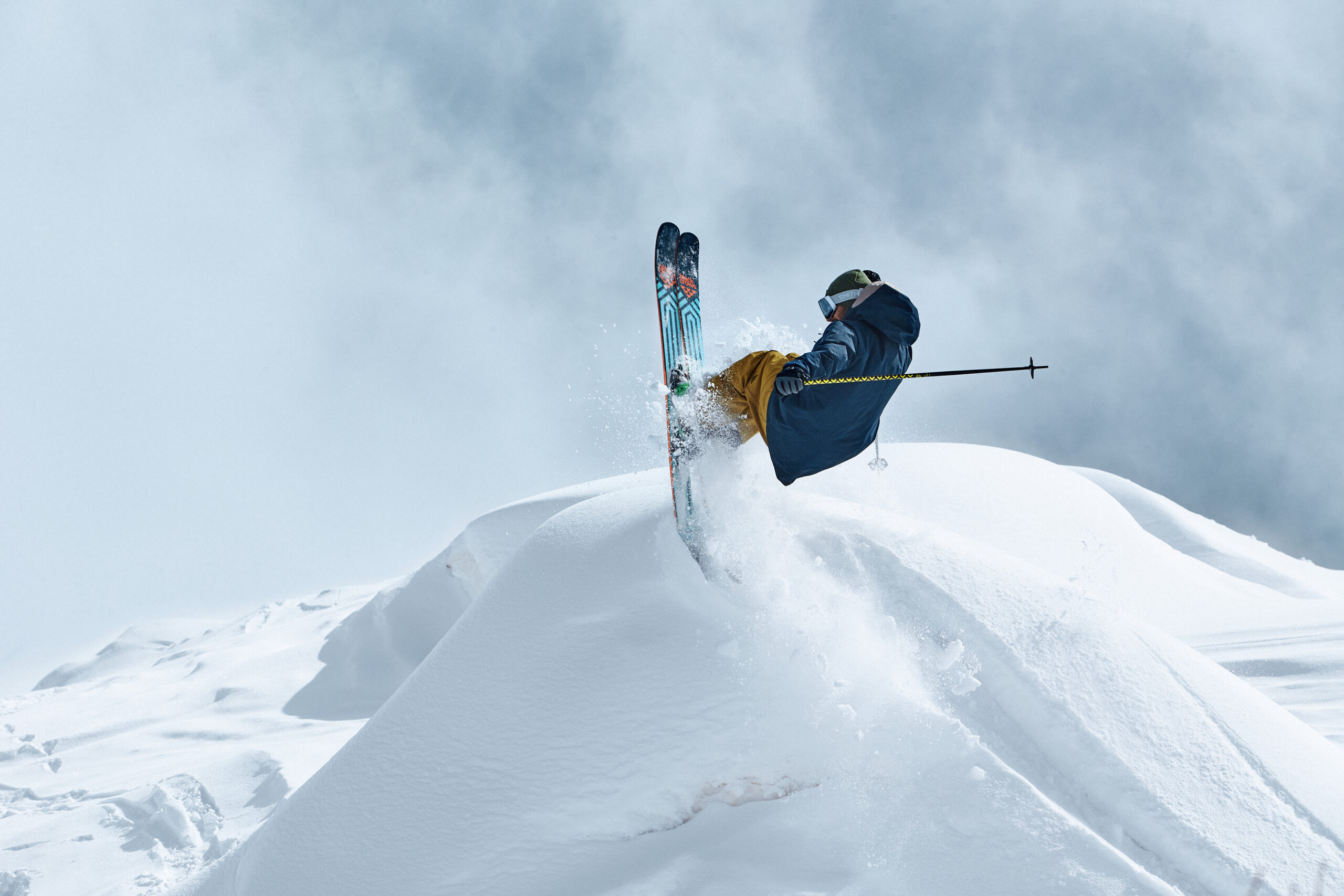 Black Crows – Atris and Atris Birdie
Lengths: 178.3, 184.w, 189.7
Radius: 20m
Waist width: 138/108/125

This stable ski is quick when edging, with a progressive tail and a tolerant degree of flex, a powerful performer at high speed without loss of manoeuvrability. A really sporty character. The Atris is a big mountain ski for all types of weather and snow conditions, a stylish door-opener to the world of big mountain skiing.
Sego Ski Co Comp 104
Lengths: 159, 167, 175, 181, 187, 192
Radius: 18m (181cm)
Waist: 133/104/126

In competition, Freeride World Tour Champion Isaac Freeland blends high-speed hard-charging with a playful, trick-first approach to cliffs and hits. The Sego Comp is a Big Mountain Comp ski built to blend freeride and freestyle on the world's biggest faces.
Coalition Snow  SOS
Lengths: 157, 166, 173, 180
Radius: 24m (166cm)
Waist Width: 121/101/ 115 (166cm)

Don't fix what isn't broken. The award-winning SOS is the perfect ski that transitions from couloirs, to groomers, to powder filled bowls, seamlessly, just the way you like it. The SOS pairs rocker with traditional camber underfoot. Float on the pow and shred in the steeps with a multiple radius sidecut that gives you ultimate control and creates smoother turns in all conditions. A full birch core provides the stiffness you've been looking for.
Faction Mana 2,
Lengths: 166, 173, 178, 183, 188
Radius: 20m
Dimensions: 131/12/107

The Mana 2 with its versatile 102 mm waist is the sleekest in the family, making it the ideal tool to transition from all-mountain, to backside, to park. This is a high-quality, high-performance craft that effortlessly responds to your movements and your commands. Its lightweight Poplar Core construction helps the ski to pop off booters, butter over rollers, and whip effortlessly between turns. Yet the Rubber/Carbon stomp pad keeps it strong enough to take hit after hit.
Dynastar M Free 99
Lengths: 171, 179, 185
Radius: 168m
Dimensions: 128/99/120

Like its wider siblings in the M–Free line, the 99's progressive twin shape and rocker profile has a playful freeride feel for making the most of the terrain. Very well suited to Australian conditions and side country options yet versatile for your northern Hemi trip.
Volkl Blaze 106 and 94
Lengths: 165, 172, 179, 186
Radius: 17m (in 179)
Dimensions: 146-106-128
The new Blaze series adds a new dimension for intuitive freeriders who like performance but appreciate a playful, agile feel and is a highly versatile ski for outstanding performance in almost any conditions. A 0.3 mm thick Titanal binding platform provides direct power transfer and builds pressure quickly for a fast response when switching edges.  The Blaze is popular for freeride touring too, thanks to its light weight. That's why Völkl also offers Smart Glue skins tailored to each Blaze model.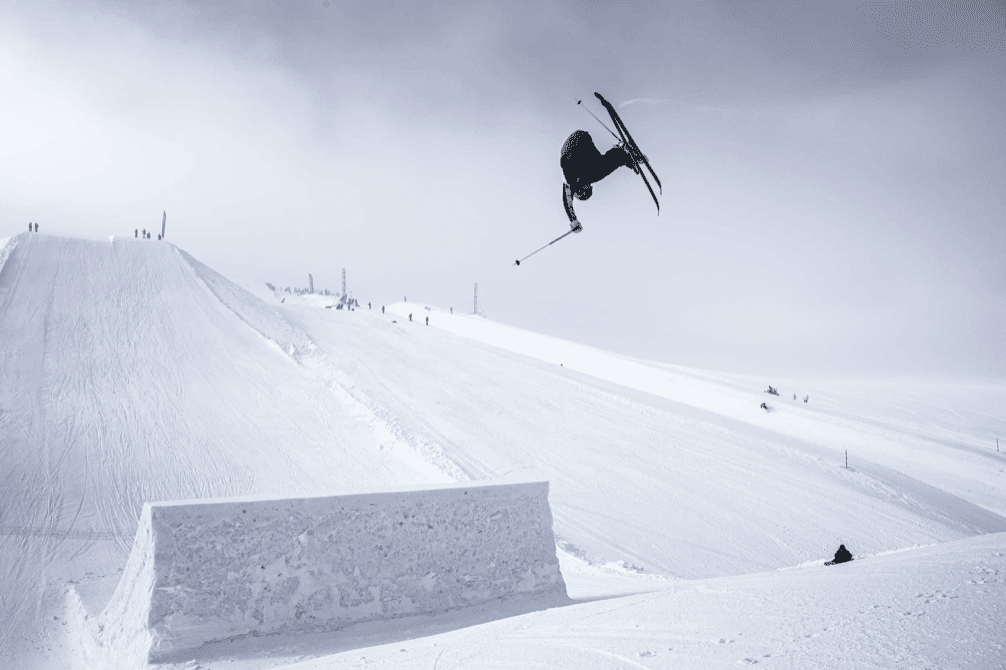 FREESTYLE SKIS
The mountain is your canvas and your skis the paint- brush. Skiing is about riding features to slash, butter and air and if the snow is not cooperating then the park probably is. Skiing switch is fun, but you also love a longer, softer tail that you can press out on take offs and landings. If you need to slow down quick you shut it down sideways with a few power slides and then ollie out to get your balance back.
What to look for:
Ski brands will often refer to the right skis for you as "Freestyle", "Park", "Freeski" or "New-school"
General traits: Twin tip, mounted near centre; 80mm+ width
. Softest to medium flex; Short to long turn radius; Regular camber, flat to early rise and reverse camber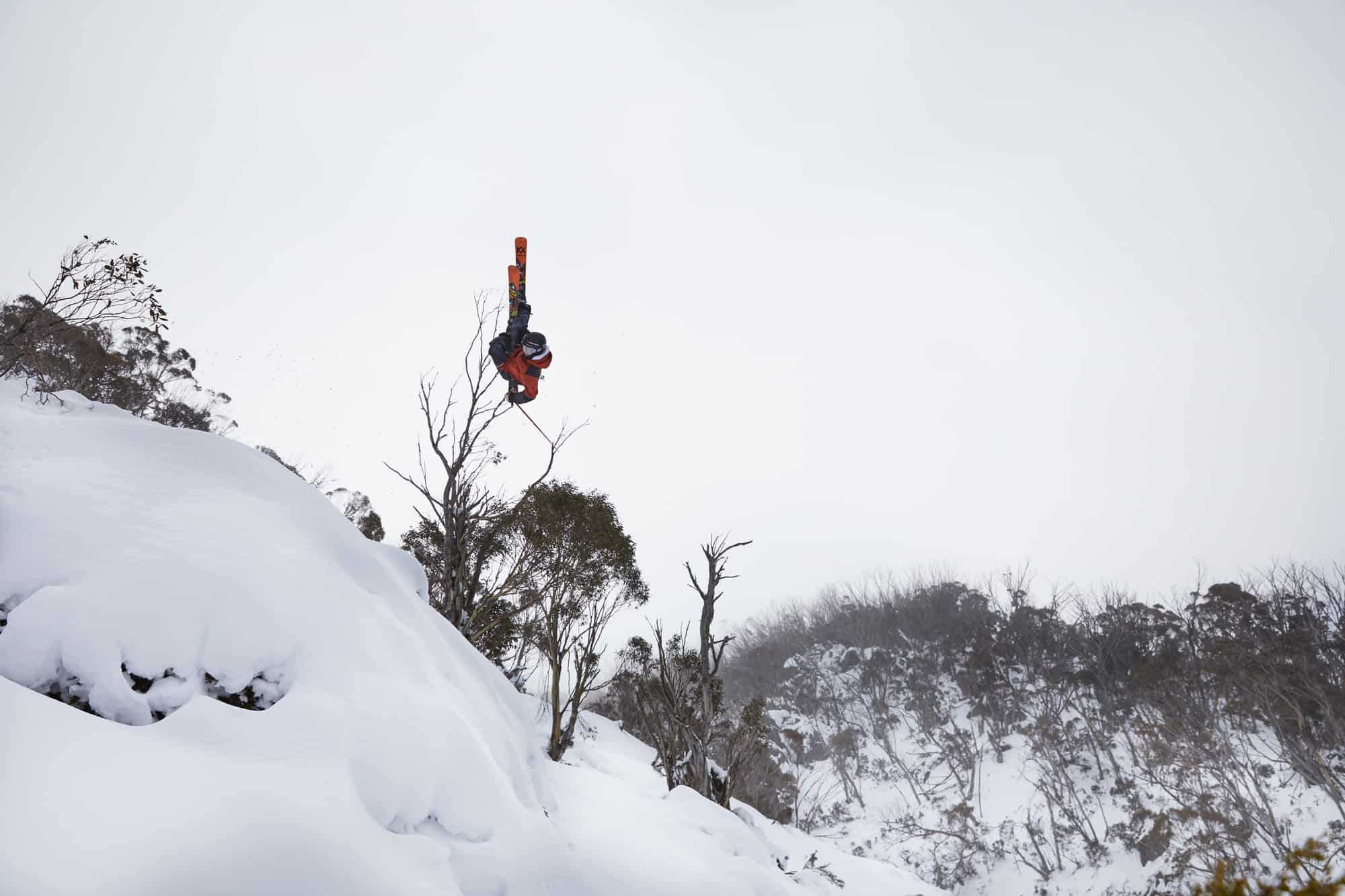 Sego Ski Co Big Horn
Lengths: 167, 176, 181, 187, 193
Radius: 17.5m (176cm)
Waist Width: 122/96/118

The Big Horn makes the whole mountain your playground. We designed a new layup for the Big Horn with Freeride World Tour Champion Isaac Freeland in mind. We wanted to create a ski that preserves its playful nature while holding steady under the highest speeds and largest airs on the mountain. The perfect balance between the confidence to shred anything and the playfulness to jib to your heart's content – available in 96, 106, and 114mm widths.
Women's
Coalition Snow Bliss
Lengths: 168, 175
Radius: 18m (168cm)
Waist Width: 112/ 83 / 112

A twin-tip ski that will shred park, moguls and groomers in the same run. We designed the Bliss to be the queen of park skiing, but this little ripper refused to conform to any labels. A narrow waist on these park skis provides a quick edge-to-edge transition and keeps the ski nimble whether she's carving groomers or skiing moguls.The birch core gives the Bliss park ski a playful flex pattern perfect for rails and jumps while maintaining the stability needed to carve up the whole mountain. The symmetrical true twin tip design makes this ski a jib champion whether you're skiing backward or forward
Dynastar Menace 90
Lengths: 130, 140, 160, 170, 180
Radius: 19m (160cm)
Dimensions: 119/90/109

The Dynastar Menace 90 Twin tip ski is made for high-energy exploration across the front and backside of any mountain. Built with a free ski inspired 90mm wide, it's versatile and manoeuvrable in all conditions. Its durable cap construction and poplar wood core combine for high-performance fun.
Faction Prodigy 1X
Lengths: 158, 164, 172, 176, 181, 188
Radius: 18m
Dimsensions: 120/88/112

The Prodigy 1X mirrors the shape of the best-selling Prodigy 2, including our award-winning Elliptical Sidecut design and a Full Strength Sidewall for top-notch edge hold. Compared to the Prodigy 2 It's 10mm narrower underfoot for precise handling in the park and on-piste, and its poplar core is bolstered by the inclusion of ash wood, ensuring it's ultra-strong to withstand heavy stomps.
Volkl Revolt 90
Lengths: 168, 174, 180, 186
Radius: 19.5 (174cm)
Dimensions: 118/90/118

The Revolt is built around a light swing-weight wood core. In this design, weight is reduced at the ski ends and concentrated in the middle, making the ski much easier to turn in the air with more control. The sidewall of the ski is given an extra layer for use in the park, which improves stability and makes the ski more durable. The Revolt is generally super smooth to ride. Thanks to its tip and tail rocker, nose butters and tail presses are virtually effortless.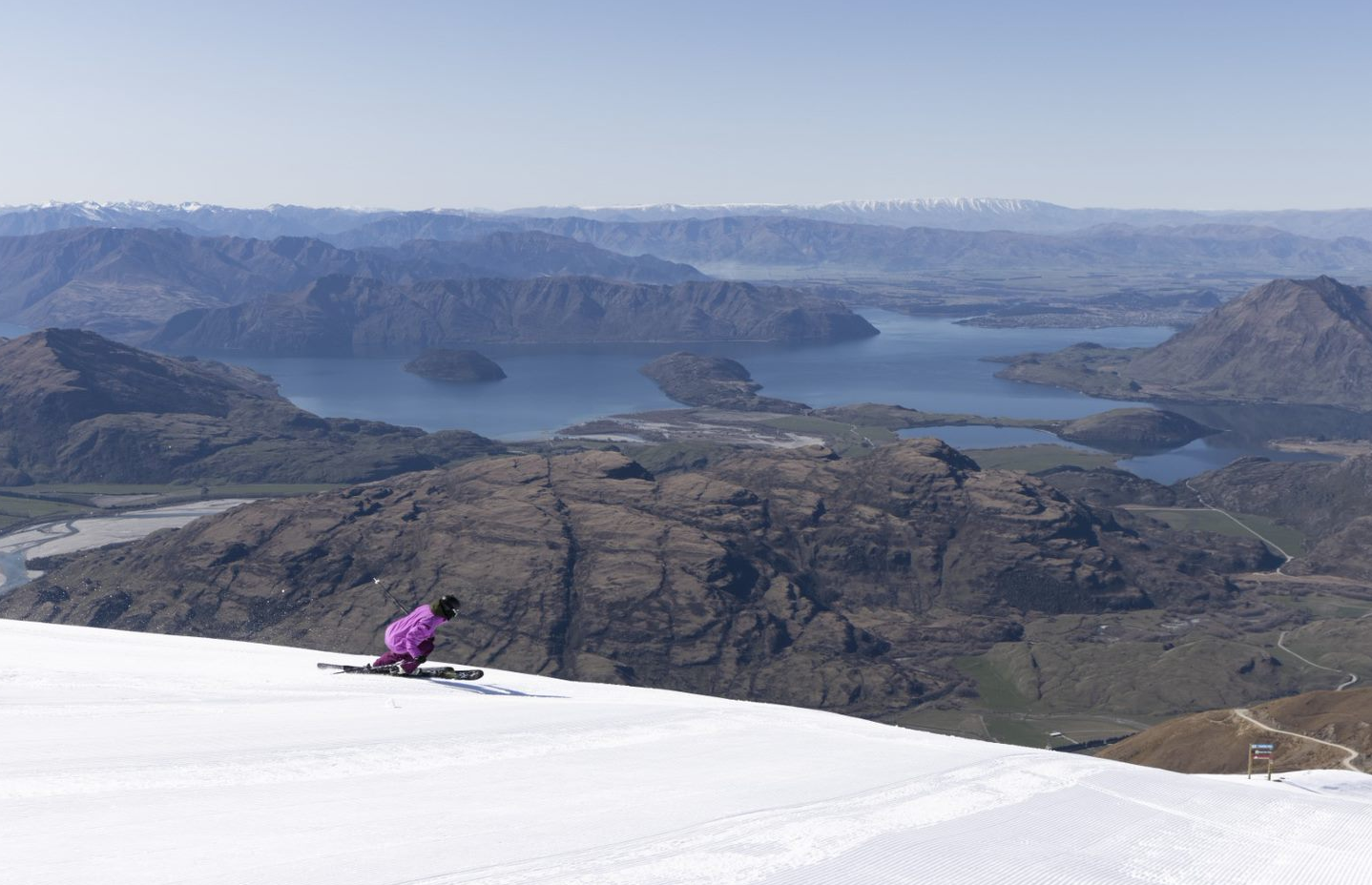 ALL MOUNTAIN SKIS
You grew up skiing on straight ski and remember when parabolics came in. That was a game changer for you and now you love skiing more than ever, even though
you might only get out there a few weeks a year. On a powder day you might ski a bit of powder off the side of the groomed run but what is even better is groomed pow. When the groomers are squishy that is heaven. Skiing up high can be fun too when the wind has flattened out the snow pack like on Antons in Thredbo or Buller's Summit. Deep down, skiing all over the mountain is fantastic, so long as there are no rocks, no bumps and a chairlift to get you back up.
What to look for: Ski brands will often refer to the right skis for you as "All-Mountain", "Piste", "Frontside" or "Resort" skis.
 General traits: Directional, traditional mount, 60-95mm width ; Soft to stiff; 
Short turn radius; Regular camber sometimes with early rise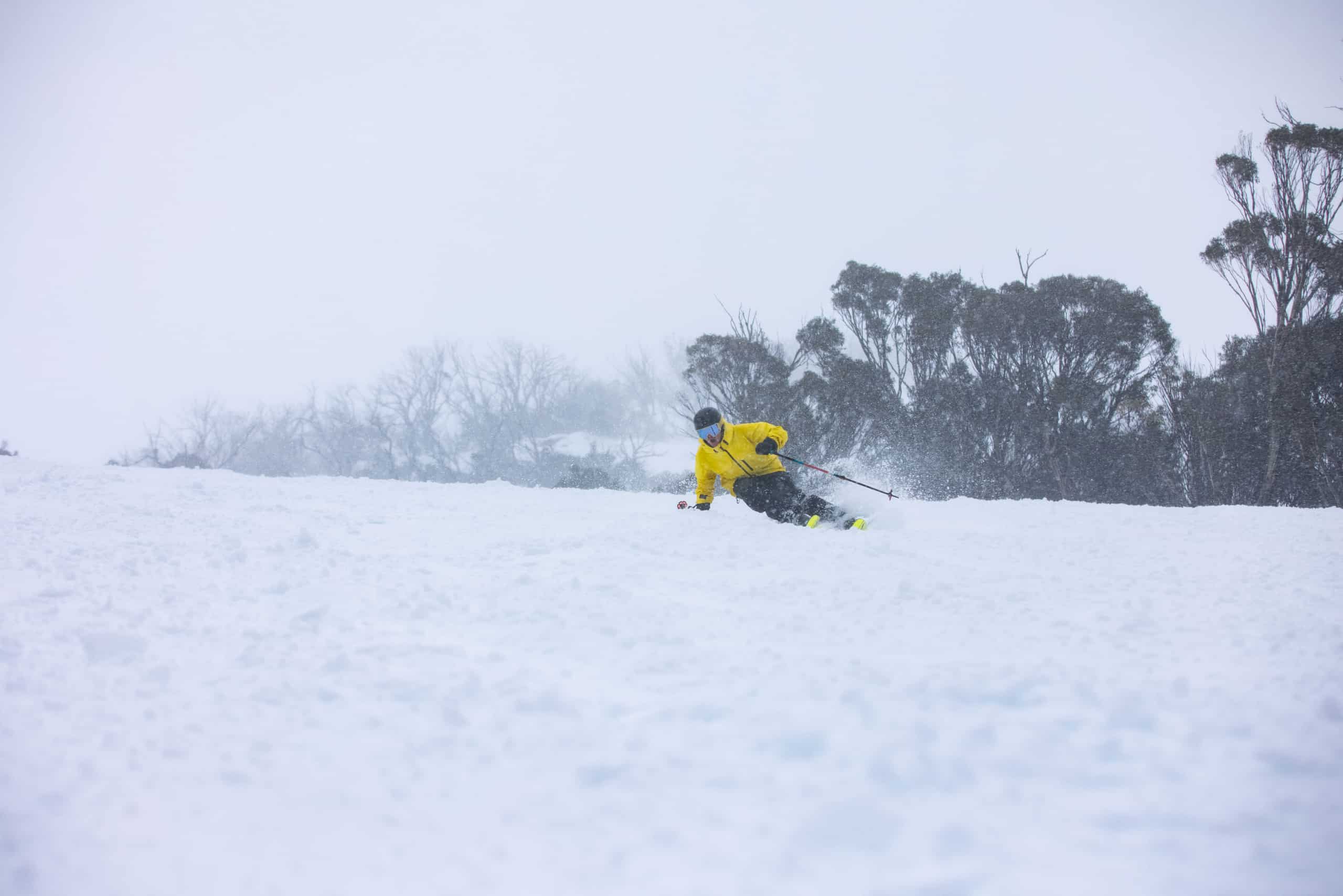 Black Crows Camox and Camox Birdie
Lengths: Uni: 174, 180, 186
Women: 156, 162, 168, 174
Radius: 20m
Dimensions: 131/97/119

This unbeatable all-terrain toy is known for its forgiveness and playfulness. Its progressive flex makes it a great ski for progression, supporting its freestyle-derived playful DNA. Its long effective edge gives it good stability and a big grip at high speed. Creativity for all on every type of terrain.
Dynastar M Pro 90
Lengths: 162, 170, 178, 186
Radius: 18m (178cm)
Sidecut: 120/90/110

Lively, yet smooth and predictable, the M-PRO 90 is powerful, precise and nimble, with the quiet confidence to do it all. From piste to powder, its Hybrid Core blends poplar and polyurethane with a titanal Rocketframe reinforcement for a balance of agility, lightness and power that delivers a responsive feel in any situation.
Faction Dancer 1
Lengths: 163, 171, 177, 181
Radius:18m
Sidecut: 120/86/110

Nimble, smooth and stable, this ski is built for pure piste performance. Two razor-thin sheets of metal complement the sustainably sourced wood core, for the ideal blend of up-tempo energy and fluid, full confidence handling —whether you're dicing through the fresh corduroy or dancing between the late-afternoon bumps.
Sego Ski Co Cleaver ALL-MTN
Lengths: 157, 165, 171, 175, 181, 187, 192
Radius: 20m (175cm)
Waist Width: 130/102/122

The ultimate directional all-mountain ski for the directional skier who values edge control and a smooth ride. All of our Cleaver models feature wall-to-wall Titanal and VDS rubber for industry-leading energy transfer and vibration dampening. Poplar core, Triaxial Glass round out the layup.
 Women's
Sego Ski Co Lupine
Lengths: 157, 165, 172, 179
Radius: 18.5m (165cm)
Waist Width: 118/92/109

A versatile and lightweight all-mountain ski. The Lupine is the culmination of five years of product design. This is the perfect all-mountain tool that is ready to take on whatever the day throws at you with smooth edge-to-edge transitions and low swing weight. The 100mm width is now available with our lightweight "tour" layup which incorporates less fibreglass and the addition of carbon fibre stingers to allow for lighter weight while maintaining a sturdy flex pattern.
Volkl Kenja and Kendo
Lengths: 163, 170, 177, 184
Radius: 13m
Dimensions: 129/88/113

This is an all-mountain freerider with a state-of-the-art build that can be used for so many different things by experienced skiers who relish powerful turns on any terrain and on any piste. The new Kenja 88 (mens) the Kendo 88 (womens') comes with revised geometry and a one metre shorter centre radius in its 3D Radius Sidecut. The key is that the three different radii combined in one ski make for enormously versatile cornering. The new 16m radius in the middle further increases its radius variability.
The Ski Selector Quiz was provided by Chillfactor, Australia's premier ski magazine