Float Your Boat – If You Are Chasing The Steep And Deep This Northern Hemisphere Winter, These Freeride Powder Skis Are What You Need.
December 12th, 2018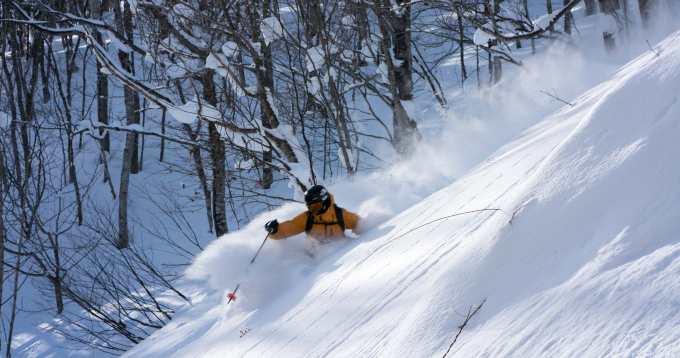 Mountainwatch | Gear Guide
If you are chasing northern hemisphere powder this season you want to have the right ski for when the snow gets epic – something fat and rockered that floats like a boat through the deepest snow. Whether you are heading to Japan, the wilds of British Columbia or the steeps of Chamonix, these freeride powder skis, aimed at the advanced to expert skier, are what you need if you're going to be ripping on the deep days.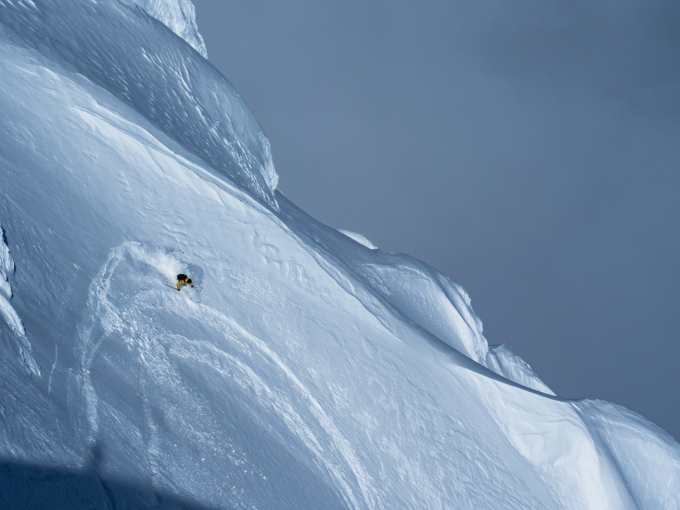 While the skis shown here are all classed as "men's skis", they do suit aggressive, confident advanced skiers, regardless of your sex, but we'll publish a guide to women's-specific powder skis soon.
Anyway, before you check out the skis, have a look at this short video from Oyuki of Pep Fujas and Adam Kroenart ripping in Japan last winter. It should get you psyched.
Atomic
Bent Chetler 120
Dimensions: 143-120-134 (184cm)
Lengths: 176l 184, 192
Turn Radius: 19m @ 184

Designed by US pro Chris Benchetler, Atomic describe the skis as the ultimate powder ski. Our Assistant Ed took a pair of 95mm all-mountain skis and some 120mm atomic Bentchetlers to Niseko last season. He said he spent four hours on the former and 90 something days on the latter… safe to say they're a go-to everyday pow ski for Japan, as easily riding backwards as forwards thanks to the symmetrical rocker/camber pattern.
"I wasn't surprised by their impressive float, that comes with the 120mm territory… It was their ability to smash through pillows and crud and then get me back to the lift via the cat track or with my edges on groomers and packed snow which was most impressive to me."
"I even busted them out in Oz this year after 20-30cm fell overnight and they were just as fun to smear and slash around the resort as they are in the stupidly deep stuff."
A light  wood core from tip to tail shaves 10% off of the ski's weight while a full sidewall and carbon backbone add strength and stiffness.
BLACKBIRD BESPOKE SKIS
Rocky Mountain Underground North Shore 114
Dimensions: 135-145-116-130-126
Lengths: 175, 185
Turn radius: 16.4m @ 175

The North Shore is a progressively engineered ski for the big and burly lines. Larger tip ratio dimensions compared to the waist allow the ski to float on powder while keeping a generous sidecut for an effective edge. The five-point design allows the ski to rail turns just as prominently as a ski with a narrower profile. The progressive radius provides more control at higher speeds when arcing big Alaska style turns. Designed to charge, the ski has been made 10% stiffer this year to increase responsiveness and edge hold.
BLACK CROWS 
Nocta
Dimension: 140-122-132
Lengths: 177.6, 185.5, 190.6
Turn radius: 26m @ 185.5cms

Great flotation and good handling, the Nocta is the ultimate toy for big conditions. The association of great float, full reverse camber and straight edges allows the Nocta to accumulate big flotation in powder, good stability on the edges and a great handling. Black Crows team rider Callum Pettit rates the Nocta as the best  powder shape he has skied to date: "The reverse camber makes them turn on a dime and you can really feel the ski working under your feet. In powder the control you have is incredible and with the narrower tip width it makes the swing weight lighter, making butters and spins feel effortless."
DYNASTAR
PR-OTO Factory
Dimension: 135-118-145
Lengths: 189
Turn radius: 24m

This expert freeride powder ski was designed and developed by big mountain freeskier Richard Perminwho tested it last winter in a wide range of conditions from the bottomless powder and tree skiing of Japan to big mountain lines in Alaska. from the bottomless powder and tree skiing of Japan to the big mountain arena of Alaska, the PROTO FA playful freeride versatility for whatever terrain is in front you. New Powerdrive Free for incomparable comfort and control, a five-point sidecut and double rocker for maximum agility in all snow and a sandwich structure with a wood core from the Dynastar racing department for total confidence.
FACTION
Candide 4.0
Dimension: 140-118-134
Lengths: 176, 182, 188, 194
Turn radius: 23m @ 182cm

Candide Thovex's signature skis are all about ultra-focused performance. From the park inspired 1.0, through the all mountain 2.0 to the light weight Backcountry / Freestyle-inspired 3.0 and 4.0. The new construction of a Balsa / Flax core gives the 4.0 amazing flex throughout the ski while the titanal reinforcement under foot give you the feel of a super strong ski.  Awider waist, rockered tip and tail and reduced taper sidecut offer superior float in pow, and an easy to pivot, buttery ski whether throwing double backs or dropping pillow lines.
 Elan
Ripstick 116
Dimensions: 143-116-132
Lengths: 185, 193
Turn radius: 20.3m @ 185

A hard charging big mountain freeride ski that's sturdy, yet responsive, for top-to-bottom mountain exploring. Manoeuvrable and stable at speed the Ripstick 116 is designed for the deep pow days we all seek.  With Elan's Amphibio profile, there is a designated left and right ski with a cambered inside edge for grip and a rockered outside edge for easy turning, SST sidewall construction and a wood core from tip-to-tail. The carbon rods along each rail and composite inserts in the tip and tail for light weight and less chatter at speed
FISCHER
Ranger 115 XTi
Dimension: 144-115-134
Lengths: 178, 188, 196
Turn Radius: 20m @ 188

This absolutely top powder model from Fischer has technologies that set new standards. Free Milled Titanium and Aeroshape for increased stability, extra-wide design, and special Titanal reinforcement in the binding section are everything you need for the steep and deep. Stable at speed, but light and nimble the is quick edge to edge and holds through big turns while the rocker in the tip and tail and camber under foot powers through deep snow.
K2
Catamaran
Dimension: 136-120-131
Lengths: 177, 184, 191
Turn radius: 21m @ 184cms

A re-imagination of its predecessor the Pettitor, with upgrades in its ability to be skied nimbly, the Catamaran features the Asymmetric Tip design that was successful in the Marksman last year. With a twin-inspired asymmetric shape, this ski is primed for hucking, slashing, jumping, and sending off everything in its path with predictability and confidence. 120mm underfoot means this ski is at home in the deep. Take it to Japan and plane through the bottomless powder with ease – just like Pep Fujas.
LINE
Sick Day 114
Dimensions: 140-114-126
Lengths: 180, 190
Turn radius: 23.9m @ 190cm

When the storms start frothing and the snow keeps flying, snag the LINE Sick Day 114 Skis. With a finely tuned profile, reinforced by Magic Finger Carbon Filaments, the Sick Day 114 can blast, arc, and surf the deepest of the deep. Rocked in the tip and tail for planes through pow while camber under foot gives it bite when you hit soma heard snow.
VOLKL
Confession
Dimension: 144-117-133
Lengths: 179, 186, 193
Turn radius: 23.8m @ 186

The name says it all. Völkl's Confession entered the market heralded by numerous awards for its stable, solid ride and lively handling. With a shape and its Titanal Band construction this ski delivers the ultimate stability without adding too much weight. The moderate taper outline allows you to steer and point it wherever you want it to go. Athlete-tested in big mountain powder conditions, this directional ski handles deep snow and variable conditions with unparalleled smoothness. Not surprisingly  it is Kiwi big mountain skier Sam Smoothy's favourite ski: "I love the power and stability I get with the Confession, it can handle anything I throw at it and floats so well in powder, I feel like I can stomp anything with this ski." As Sam does in this segment from TGR: