Grasshopper's Weekly Japan Snow Forecast, January 6 – Snowfalls Pick Up Again Next week
January 6th, 2022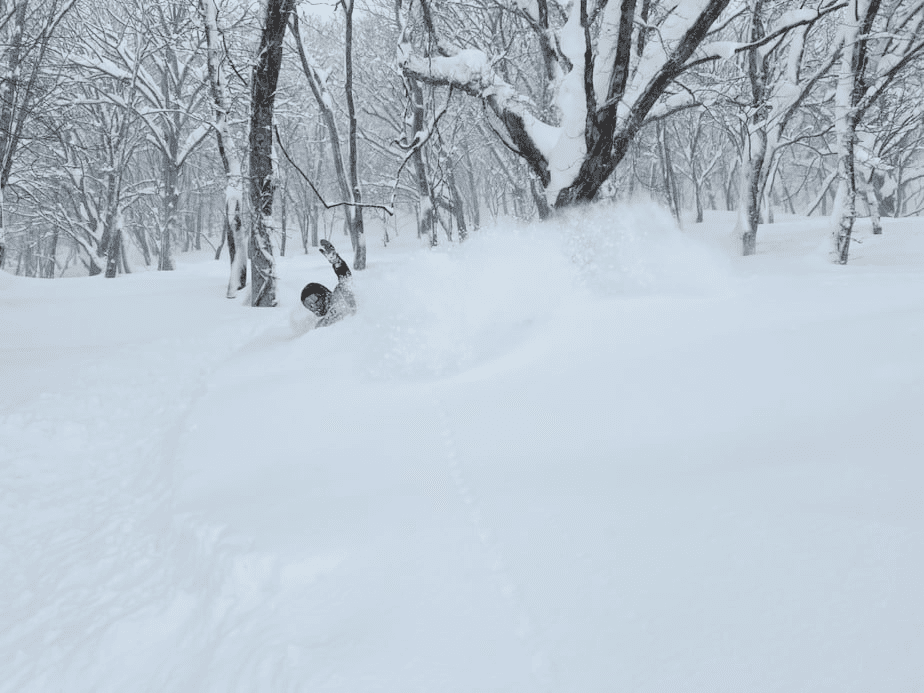 Mountainwatch | The Grasshopper
Valid Thursday 6 January – Thursday 13 January 6
 Another big week has come and gone around Japan with some large Siberian storm cycles hitting both Honshu and Hokkaido. Consistency has been the name of the game since the season got underway with reports around Niseko showing daily snowfalls every day since December 15.
Over the last week Niseko has seen around one metre at base level while Honshu areas like Hakuba saw around 50cm from January 3 to January 4 alone. It's shaping up to be a very solid season if this consistency continues.
For the week ahead, you guessed it, more snow around the Japanese archipelago. This week also shows a better outlook for northern areas not missing out as much as they might have in recent weeks. The 10-day heatmap is shown below, although it might not be as red as previous weeks there is still considerable snow on the way for central Honshu and other regions along the coast.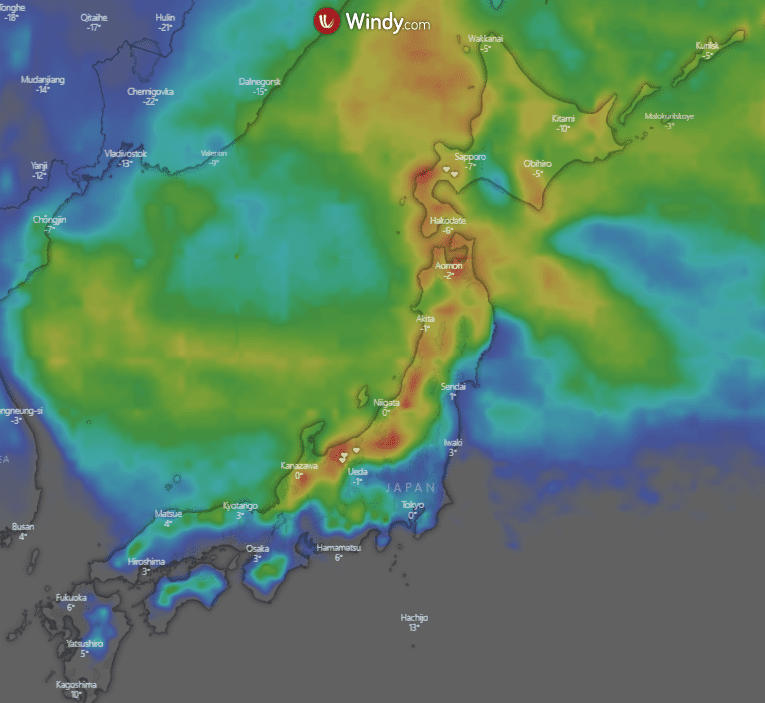 Thursday, January 6 – Friday, January 7
Around Honshu some early cloud should clear a little through the day before snow develops overnight, falling into Friday morning. Totals around 4-12cm. For Hokkaido light snow expected through the day around Niseko with falls strengthening overnight. Still, shouldn't see too much with totals below 10cm.
On Friday northwesterly winds gusty at times around Honshu will bring colder temperatures and snow. Totals in the order of 4-12cm most likely. A similar situation in Hokkaido with moderate snowfalls expected throughout the day, but could be hit and miss for resorts with totals around 4-15cm.
Saturday, January   8 – Sunday, January 9
Light snow is expected for northern regions of Honshu and Hokkaido, but looks to miss central Honshu. Totals look modest, only around 3-10cm. Central Honshu should see the sun come out for a nice day of riding.
Windy on Sunday with north/north-westerlies on Hokkaido and north-westerlies throughout Honshu accompany more light snow around most areas, but shouldn't be too heavy. Only around 2-8cm expected with better chances up north.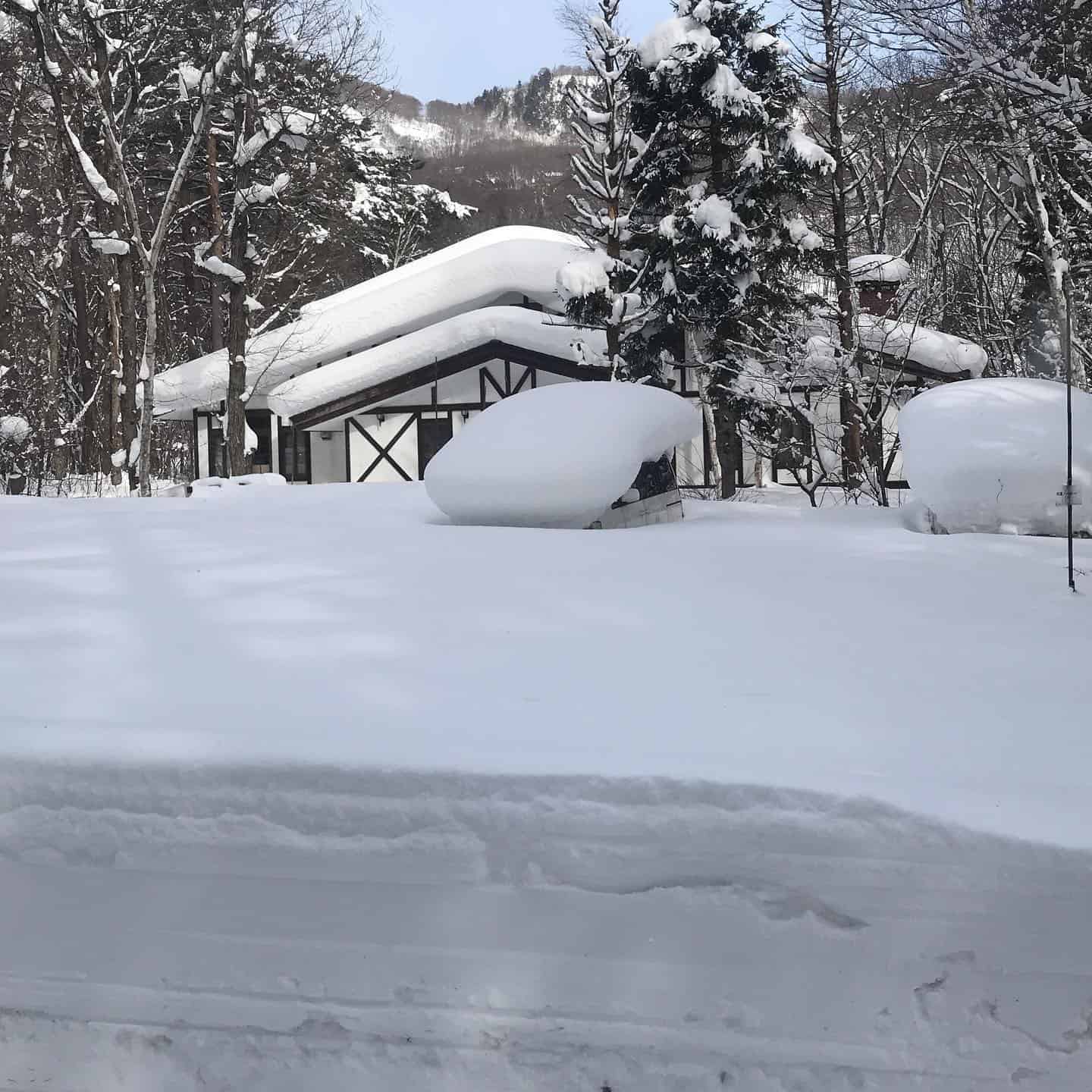 Monday, January 10 – Wednesday, January 12
Monday sees a break in snowfall around the country while a low-pressure centre brews in the Sea of Japan making the rest of the week interesting. It Should be a partly cloudy day around most areas with mild temps.
Low pressure in the Sea of Japan moves north off to the west of Hokkaido on Tuesday, bringing south/southeasterly winds to areas on Honshu, which aren't ideal for snowfall. Some light rain may fall through the middle of the day before it cools down overnight and turns to snow. Totals 3-8cm but snowfalls continue into Wednesday and could produce much more. For Hokkaido, a foggy cold start becomes warmer with snow expected overnight, around 4-12cm.
On Wednesday the low pressure I mentioned transits Japan to sit off the eastern side of Hokkaido in the Pacific Ocean. In doing this the winds change for the better. Hokkaido gets a little warm with strong winds but should remain cold enough for decent snowfalls which could be on the order of 15-35+cm in certain places. Heaviest falls look to occur early. Similar story in northern Honshu which should also experience similar snowfalls to Hokkaido. Central Honshu should also fare well but not totals not as deep as the northern areas with around 8-16cm expected.
Extended Outlook
So, in summary, another productive week on the way around the Japanese snowfields, but not quite as productive as some of the recent dumps we have seen. The good news is the snow that picks up towards Wed/Thurs next week looks to continue into the weekend offering some decent totals, but it's a little far away to get too specific. I'll bring you all of that in next week's forecast.
For now, we should see some sunshine around resorts in the next seven days along with some reasonable snowfalls. If you are lucky enough to be out there enjoy it.