#Mountainwatchthis Clip Of The Week Instagram Comp – Vote For The Season Winner Here!
October 10th, 2018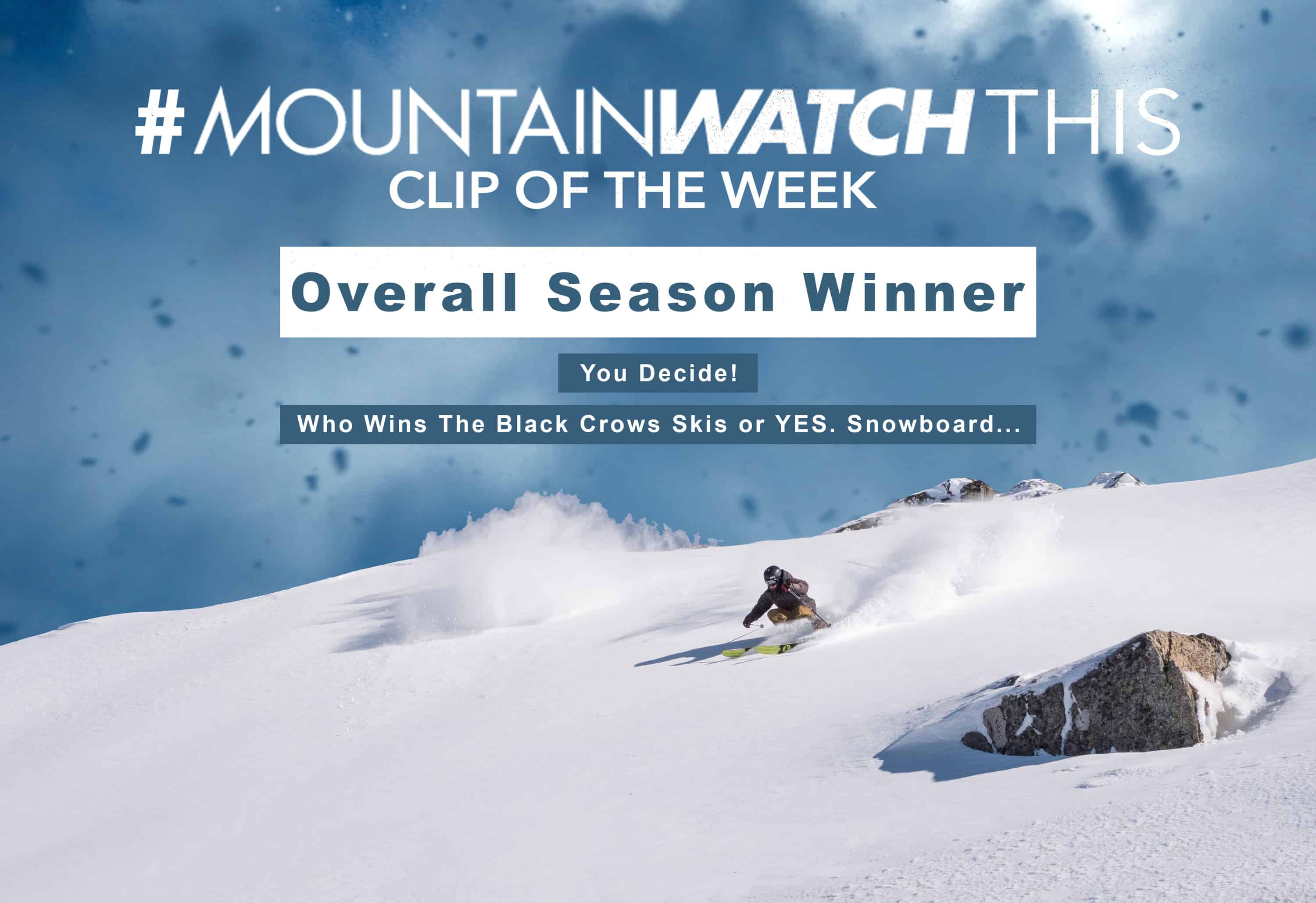 Mountainwatch | Competition
Well, we asked for it, and you guys did not disappoint! The #Mountainwatchthis clip of the week competition we ran throughout the 2018 Southern hemisphere winter season was a great success, and we enjoyed every single pow slash, corduroy carve, follow-cam, face-plant and ski tour you guys tagged us in! 
In case you're playing catch up, here's the original brief from way back in June:
"Introducing #mountainwatchthis – Mountainwatch's 'clip of the week' competition to run for the duration of the Australian ski season – Since there's no such thing as too much snow, there's no such thing as too much snow footage.

To enter, all you have to do is post your snow clips (60 seconds or less) to Instagram; tag us @mountainwatch and use the hashtag #mountainwatchthis.

Share anything from iPhone filmed Australian pow turns, heavy snowfall footage or timelapses, your best hero POV shots of you hucking your proverbial meat or your friend or family member double ejecting – preferably under a chairlift. It's entirely up to you; we just want to see it!

The weekly winner (judged by us) will receive a pair of Giro ski goggles and have their clip shared on the Mountainwatch socials.

But wait! There will also be an overall season winner, judged by you guys (the public) out of the best clips from all of our weekly winners. This lucky person will receive either a pair of Black Crows Skis or a YES. Snowboard!"
Now that we've established all of our weekly winners (and parted with no less than 12 pairs of Giro snow goggles), it's time to figure out the overall season winner!
As mentioned, we want you to select who you think deserves to be the 2018 season winner! For your benefit, we have a showcase video that features all 12 winners plus their full videos have been linked below in consecutive order. Beneath those, you'll find a poll in which you may vote for your favourite.
Without further ado, re-live the 2018 season through the lens of other 'Mountainwatchers' and be sure to cast your vote!!!
Week 1 (July 9)
Week 2 (July 16)
Week 3 (July 24)
Week 4 (July 31)
Week 5 (August 7)
Week 6 (August 14)
Week 7 (August 21)
Week 8 (August 28)
Week 9 (September 4)
Week 10 (September 11)
Week 11 (September 19)
Week 12 (September 25)
Vote Now
When is the winner announced? 
The clip with the most votes in one week's time will be awarded the grand prize of a pair of Black Crows Skis or a YES. Snowboard (depending on their preference).
More #Mountainwatchthis?
Absolutely! keep tagging us with #mountainwatchthis and @mountainwatch on Instagram, especially as we rapidly approach the northern hemisphere winter. While we can't guarantee any immediate prizes (at least until northern resorts open) we are most definitely on the lookout for clips (old and new) to share on our social media accounts!
https://www.instagram.com/mountainwatch/