The Grasshopper's Weekly North American Forecast – White Christmas On The Way
December 20th, 2018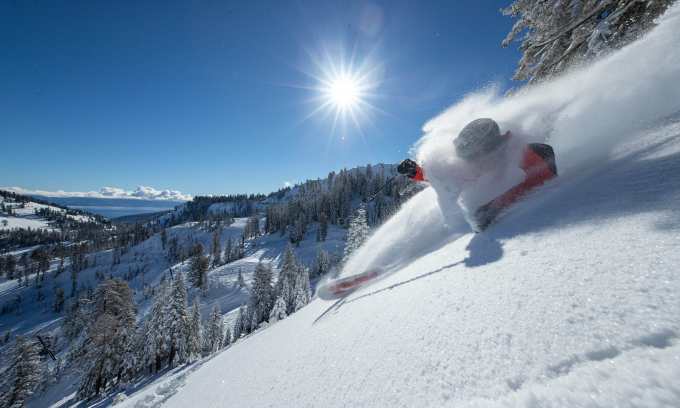 Mountainwatch | The Grasshopper
There's only six sleeps until Christmas and we have more than just presents to look forward to. Snowfalls feature on every day and my feelers almost fell off after writing about it all. Christmas Eve, Christmas Day and Boxing Day will particularly be worth freeing up your schedule for if you aren't already over committed.
Looking at the overall picture for the next ten days, the Coast Mountains of Canada are expected to receive up to a whopping 1.5m! The Cascades and northern Sierras can expect 50-75cm or more, while the southern Sierras 25-45cm and the Rockies are in line to receive 20-35cm.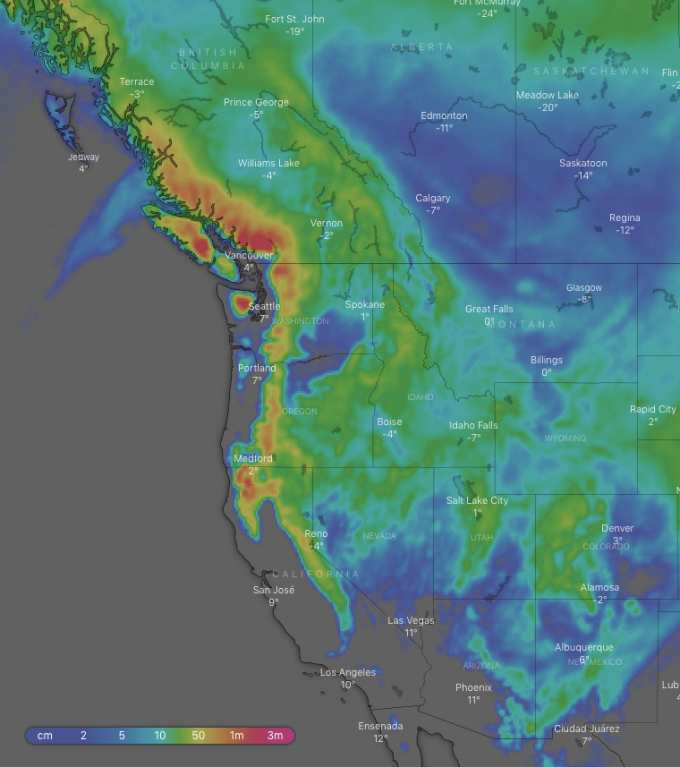 Thursday 20 Dec:
A low from the Pacific rampages over the Coast Mountains of Canada and dumps a whopping half a metre of snow there. It'll be a wee bit sludgey at low altitudes as temps will be a little warm down there. There'll also be good snowfalls over the Cascades and Canadian Rockies as the system pushes inland. Snowfalls will also get going over northern Sierras and Rockies of Idaho and Montana late in the piece.
Friday 21 Dec:
Snow flurries will clear Canada, the Cascades and the Sierras as high pressure moves over. The odd snow flurry will linger over the northern half of the American Rockies and some will also pop up over northern Utah and Colorado later in the day.
Saturday 22 Dec:
A frontal system will bring early snowfalls over the Coast Mountains and northern Cascades. The odd snow flurry here or there over the Rockies, with more consistent falls over Colorado.
Sunday 23 Dec:
Starting before dawn, another low from the Pacific will push in nice freshies to the Coast Mountains, Cascades and the northern Sierras. Lesser amounts will spread inland to the Rockies later in the morning and afternoon as it clears from the northern Sierras.
Monday 24 Dec:
Yet another low comes and sits just off the west coast and drops snow over the Coast Mountains and heavier falls over the Cascades and Northern Sierras. Lesser amounts will make it over the southern Sierras and Rockies later in the day.
Tuesday 25 Dec:
The low will cross the Cascades early in the day, then wander inland over the southern half of the American Rockies. Snow will accompany the low and everybody will get some. What a merry Christmas!
Wednesday 26 Dec:
The low deepens as it migrates eastwards over the Great Plains with decent snowfalls over the American Rockies. Snowfalls will clear mountains on the Pacific Coast as well as the Canadian Rockies early in the day.
Extended Outlook:
Another low and its front look to approach from the Pacific next weekend. Mountains along the Pacific Coast are in the line for decent snowfalls, while lesser amounts can be expected for the Rockies. That's all from me folks, have a very merry Christmas.