USA Weekly Snow Wrap Up – Season's Beginnings
November 30th, 2011


Jackson Hole 24 November, three days before opening. Image:: Jackson Hole
Weekly Snow Wrap
Stormwatch:
The snowfall heros
It's been a sunny week all round, but first prize goes to Jackson Hole – already at 2m for the season.
The Cottonwood Canyon resorts in Utah are at around 190cm for the season so far
Mammoth is sporting a 90cm snow base in parts
The snow forecast heros:
Snow clouds are hovering over Colorado and look like they're entrenched for the week.
Vail should see well over 10cm by the weekend
Highlights this week:
More lifts opening every day!
If we could pick anywhere this week, we'd be: Jackson Hole… can that place ever disappoint?
Aspen Mountain Opening Day – 11.24.11 from Aspen/Snowmass on Vimeo.
California
Status: Heading up towards half of California's resorts have opened for the 2011/2012 season, with the big'uns – Heavenly, Mammoth Kirkwood – running comfortably at about 10% – 15% open
Recent snow: It's been sunny in California… (let's see how many times I can use that line in these weekly updates before it becomes my most hated phrase…) for the past week but November has seen a respectable 80cm or so of snow across the resorts.
Coming snow: There's hopefully 10cm or so on the way for the end of the week, but that forecast models are in some disagreement – it could fizzle to nothing.
Conditions generally: It's early season. The resort have about a 40cm – 50cm cover at mid mountain. Mammoth, has about 60cm – 90cm. With seven days of sun just gone and some balmy temperatures, that cover will be less than amazing.
Highlights: Mammoth has opened its 22ft super-pipe, the first Olympic sized halfpipe to open this season anywhere in the world. There are celebrations all over as the resorts welcome the new season; Ice skating spectaculars in Heavenly, light shows in Mammoth and discount rates all over.
Colorado
Status: Colorado's most famous slopes are open and running about 10% – 17% of their terrain. Crested Butte and Durango are faring best.
Recent snow: It snowed across most of Colorado at the beginning of last week – in the vicinity of 10cm – 20cm and there's been as much as a metre – in Telluride – in November.
Coming snow: Looking right to the end of the week there may be 10cm or so heading towards the top half of the state, a little less for the lower half.
Conditions generally: Similar to California – early season, bit patchy, quite warm. Though Colorado has a better base cover generally, more up around the 60cm mark for most resorts.
Highlights: Free skiing at Aspen (in a buy four, get one free kind of way) celebrations to welcome the Hotel Madeline into the Telluride family – Hotel Madeline is HIGHLY recommended by Mountainwatch (afternoon candy-cart in the lobby, self-service all you can eat style… amazing)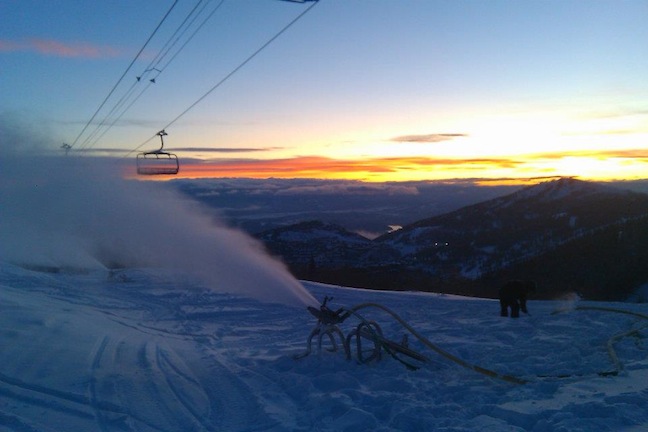 Snowmaking at Park City 23 November. Image:: Park City
Utah
Status: It's more open than otherwise in Utah, with the Big and Little Cottonword Canyon resorts, Park City and The Canyons are all open in some form.
Recent snow: It's been a little fine and sunny in Utah this past week, so no snow to report but with Alta and Snowbird both boasting over 190cm of snow so far this season Utah is looking good.
Coming snow: It'll be overcast and slightly snowy for most of the week without delivering any major snowfalls.
Conditions generally: At the Cottonwood Canyons, where nearly 2m of snow has already fallen this season, things are typically powdery. Down at Park City excellent snowmaking and commitment to perfect slopes has made for some excellent early season snow sliding.
Highlights: Having some of the deepest snow coverage in the USA is pretty impressive.
North West – Wyoming, Idaho, Montana
Status: Over 2m of snow and counting at Wyoming snow-piece resort Jackson Hole – meaning it's already running 50% of its terrain. Decent snow cover across Idaho and Montana mean the larger resorts are at least partly open
Recent snow: Nothing in the recent past, but as mentioned, as much as 2m already this season in Wyoming, a little less but still sufficient around the rest of the North-West
Coming snow: Clouds, possibly snow clouds, will hang over the area for the week… nothing significant in them yet but who knows.
Conditions generally: Packed powder and early season.
Highlights: Jackson Hole, doing it again, being the place everyone wishes they could be…