Jackson Hole – Santa Brings Some Christmas Pow
December 29th, 2017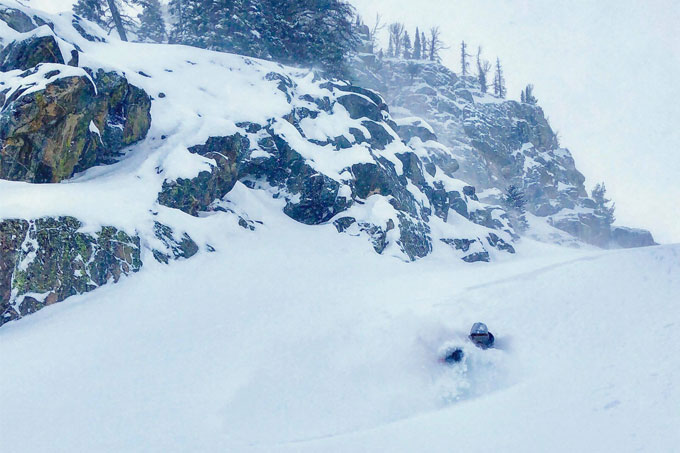 Coen Bennie-Faull, deep in some Jackson pow on Christmas Day. Coen coaches at Hotham Freeski each winter, saving his dollars so he can get back to Jackson each season. Easy to see why. Photo – @malachiartice
Mountainwatch | Coen Bennie-Faull
Coen Bennie-Faull has arrived in Jackson Hole for his fourth consecutive winter and he arrived just in time for 45cms of snow and a few powder days over Christmas. This is the first of regular Jackson Hole updates we'll be getting from Coen over the next few months:
After getting off to a great start to the season in late November/early December, Jackson Hole experienced a dry spell throughout December with unusually warm temperatures and low snowfall levels. However, a Christmas miracle seems to have turned this around after snow started to fall on December 22, delivering a quintessential Jackson Hole festive season yet again. The snow was consistent, with 10 inches (25cm) falling on December 23 and eight inches (20cm) of light blower pow recorded on Christmas morning.
The snow quality was awesome – light, dry and deep – with locals and visitors enjoying some amazing turns in Jackson's incredible terrain. Pretty well the ultimate Christmas present for any skier or snowboarder.
Despite a lean December snowfall total, Jackson Hole Mountain Resort still manages to boast an impressive total of 10 out of 12 lifts running with only the two access lifts from the Hobacks (Union Pass and Moose Creek) yet to open this season. Snowfall levels on the upper-mountain currently sit at 472cms with totals of 350cms at mid-mountain, leaving great soft skiing across the whole mountain in the lead up to the new year.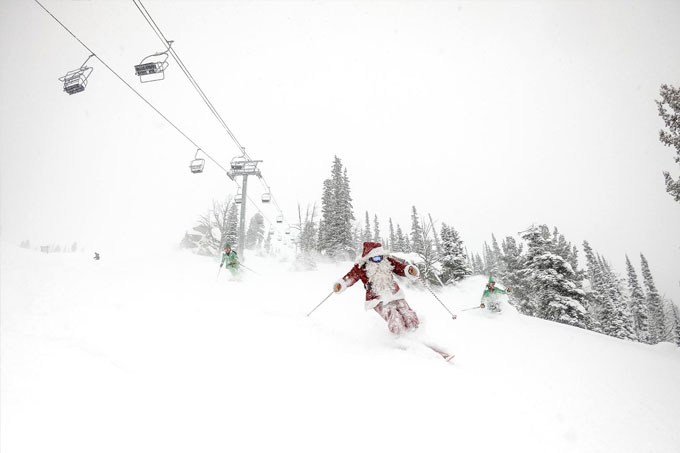 Santa gets in a few powder turns on Dec 23. Photo: Jackson Hole
Looking at the forecast for Jackson, 2017 is going to go out with a bang, with another 75-80cms forecast over the next few days, so things are only going to get better and we should be in for a few epic days. It looks like Jackson is back in the flow of winter and looking good for the season ahead.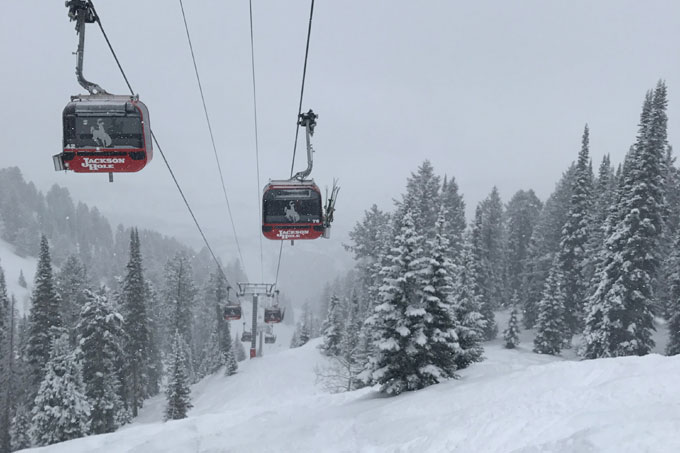 Nke riding a gondola when it's snowing and there's a heap of powder on the ground.