SNOW JOURNAL – The Storm Of The Season
August 19th, 2012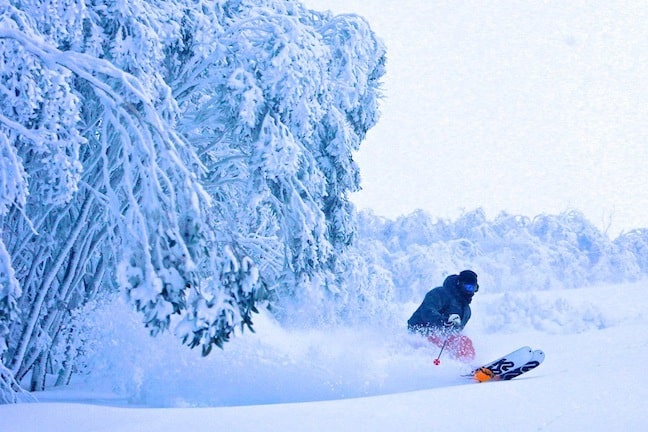 Tom Costa slaying some in Falls Creek Image:: Courtesy of Falls Creek
Snow Journal | Reggae Elliss
Well, what a week we have had in the mountains – for that matter what a month August is turning into. Last week I was writing about 15 to 40 cm across the resorts on August 9-10, now I'm talking about up to 90 cm last Thursday to Saturday, a period that included the best powder day of the year.
Last week started in sunshine and stiff WNW winds blowing in a lot of snow, then we had two little 5 cm top ups on Tuesday and Wednesday night, although Buller did better, getting 15 cm over the two nights. All the focus was on an approaching cold front, the models calling for over 35 cm, the Grasshopper was tentatively a little more wary due to a possible low forming behind the front and a southerly airflow that could reduce the snowfall.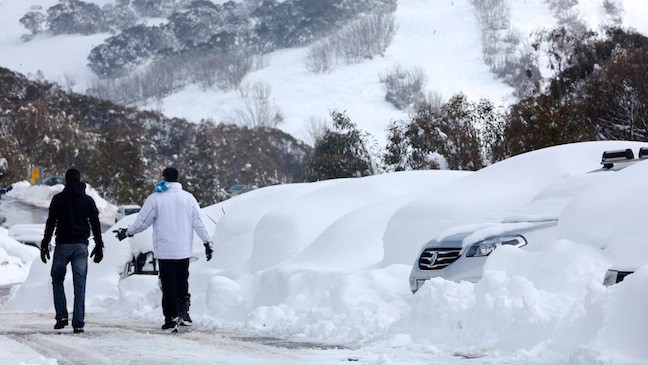 "Hey mate, you remember where we parked right?" Image:: Courtesy of Falls Creek
Well, he need not have worried as it dumped overnight on Thursday 16 August, Thredbo reported 40 cm at the top above 1800 m and 15 cm at the 1500 m mark. Perisher had similar levels, 15 cm at the base, 25 cm mid-mountain and 30 + cm up high. Unfortunately, the most southern resorts missed out, Buller and Baw Baw were only reporting 3-5 cm however Hotham and Falls did quite well, both reporting 20 cm and heavy snowfalls continuing.
Friday turned out to be one of those epic days, although the wind on Friday morning forced chairs to go on hold in both Thredbo and Perisher. Luckily, the wind eased around midday just as the snowfalls intensified and it snowed all day, laying down another 2-25 cm of fresh powder. Those lucky enough to be out there scored big time, finding deep powder that filled in with every run, overcoming the poor visibility by dropping into the trees. It was one of those magic days when a lot of people sat out the storm – something I can never understand – while the 'hardcore' crew scored the best snow of the season!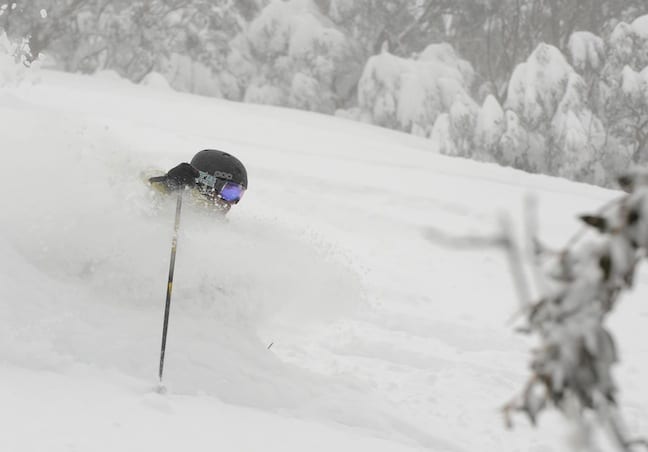 You would be forgiven for confusing this shot with Japan! Image:: Courtesy of Hotham
It was epic, Billy Barker summed up his day in Hotham nicely in an afternoon email: "F'n unreal here today.  We all reckon the best day for a couple of seasons at least!".
Another 10-30 cm across the resorts on Friday night had everyone pumped for Saturday and a core crew flooded the resorts. There were massive lines for first lifts, the super keen lining up at 7.30 am.
Anticipation was very high, but everyone was a little disappointed, a strengthening SSW wind packed down the fresh snow. However if you knew the terrain and where to head to find aspects in the lee of the wind, there were plenty of fresh tracks to be had. It was no where near as deep or light as Friday afternoon, but we all know the day after the storm is never as good as it was during the storm!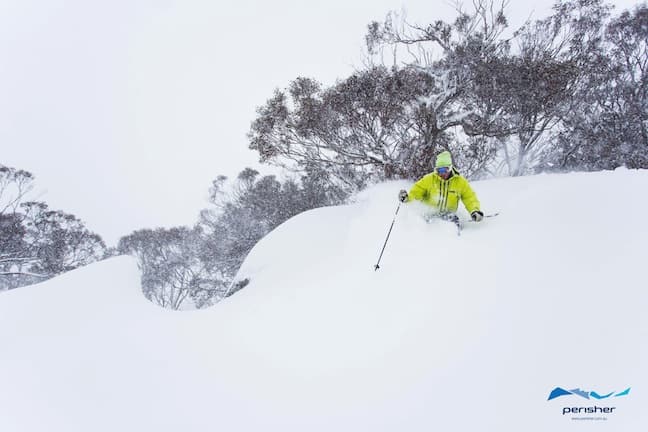 Perisher's marketing director Richard Phillips doing some R&D… Image:: Courtesy of Perisher
The end result is a base well over 170 cm above 1800 metres, close to 100% of the terrain open and things are set up quite nicely for the rest of the season. It's bluebird today with a moderate westerly blowing in dry snow over the top here in Thredbo. Those who made the effort this weekend scored big-time, one of those magic weekends that reminds you of why you love the mountains.
Perisher forecasts,
snow reports and
live snow cams.
Falls Creek forecasts,
snow reports and
live snow cams.
Mount Buller forecasts,
snow reports and
live snow cams.
Hotham forecasts,
snow reports and
live snow cams.
Thredbo forecasts,
snow reports and
live snow cams.
Mount Baw Baw forecasts,
snow reports and
live snow cams.