Wednesday 19 September
Synoptic Outlook:
A front is currently working it's way over the Aussie Alps, turning rain showers into snow flurries as temps drop. A ridge will build over SE Australia during Thursday and Friday with plenty of sunshine, then it'll weaken during Saturday as a cold front approaches from the SW, allowing westerlies to pick up.
Image Of The Day: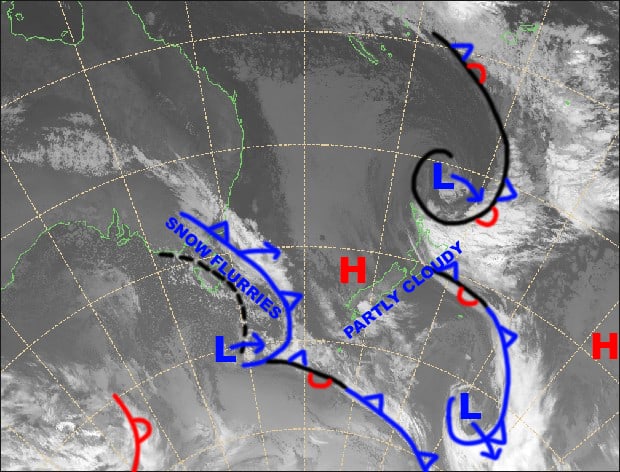 We'll get some snow flurries today, then sunshine during the following few days. Source:: Metservice (vandilised by the Grasshopper)
Wednesday 19 September:
Rain showers turn into snow flurries this morning as chilly westerlies sweep over us, then it's start clearing later this afternoon.
Thursday 20 September:
A sunny day with a little afternoon cloud. W-SW winds.
Friday 21 September:
Another cracking sunny day with W-SW breezes easing.
Saturday 22 September:
Sunny with westerly winds picking up.
Extended Outlook:
The cold front will be super weak as it crosses us during Sunday, but freezing southerlies will push in a few snow flurries. High pressure will pass over us during Tuesday and next Wednesday, then warm northwesterlies will blow next Thursday before the next frontal system hits.
That's all from the Grasshopper. Wanna keep your finger on the pulse of all things snow? Join my weekly email list by filling in the box below. If you have a question or feedback for me, hit me up on facebook.
View More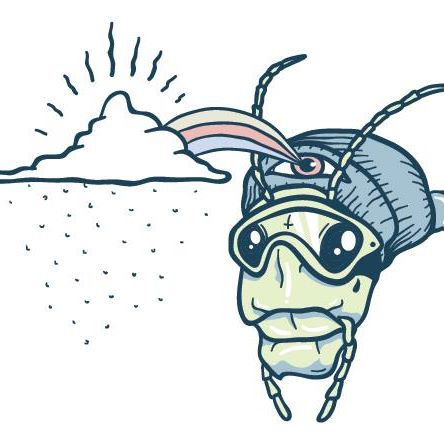 Follow The Grasshopper
Your Weekly Forecast Email