Saturday 18 August
Synoptic Outlook:
As I write, snow has started falling on Victorian resorts. Incase you missed the memo, a cold front is working its way over the Aussie Alps this morning. This is a nice juicy system and is backed up by a trough, so snow will continue to fall through Sunday, as does the freezing S-SW winds. We can expect 25-35cm of fresh powder to fall this weekend. WOW! Perfect for all you storm riders! A ridge starts to build later on Monday to settle things down, then a front grazes the Aussie Alps early Tuesday with a nice wee dusting of snow.
Image Of The Day: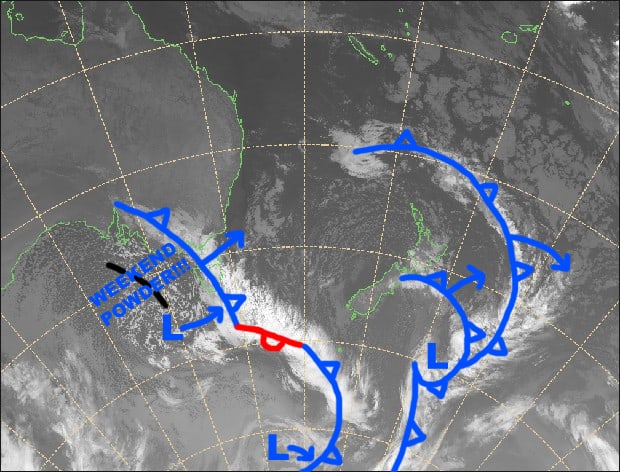 Calling all storm riders! It's your time to shine on a not-so-shiny weekend. There'll be blizzard conditions, but buckets of powder to shred. Source:: Metservice (vandilised by the Grasshopper)
Saturday 18 August:
A dumping of snow this morning as the front passes through, while strong to gale NW winds change to a freezing westerly. Then we'll have snow showers for the rest of the day. It'll be a blizzard out there, so take care.
Sunday 19 August:
Snow showers continue as freezing gale SW winds turn to the south, brrr!
Monday 20 August:
Any remaining snow flurries clear early, but it'll remain rather cloudy as strong southerlies ease.
Tuesday 21 August:
An early dusting of snow, then a bit of cloud will hang around for the rest of the day. Strong SW winds gradually ease.
Extended Outlook:
A ridge builds during Wednesday. From then on, things look a little uncertain, but there is a good chance a low will go for a walkabout over NSW to the north of the Aussie Alps during Friday. If we're unlucky, the low might push in a bit of wet yucky stuff next Saturday, but it should fall as snow on upper slopes. The low should then ship off over the Tasman Sea next Sunday leaving a ridge over the Aussie Alps.
That's all from the Grasshopper. Wanna keep your finger on the pulse of all things snow? Join my weekly email list by filling in the box below. If you have a question or feedback for me, hit me up on facebook.
View More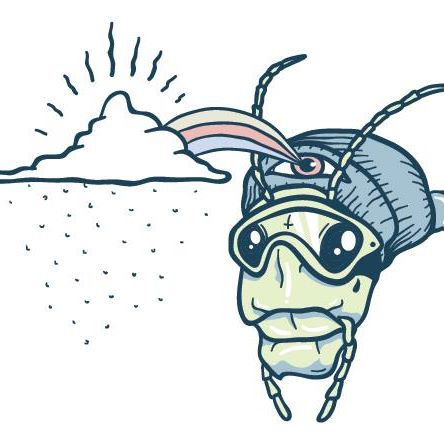 Follow The Grasshopper
Your Weekly Forecast Email